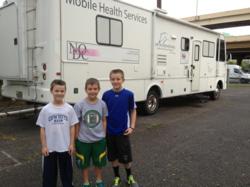 It is a blessing to be able to help a city that is in such need of so many material and non-material things, says Dr. Bowers-Plott.
Southlake, Texas (PRWEB) March 26, 2012
Dr. Angela Bowers-Plott, founder of Southlake Dermatology, was part of a mission group from North Texas who spent a portion of their spring break working at the New Orleans Dream Center March 11-15. The purpose was to help get the facility open and provide life changing services to those in need. In the wake of Hurricane Katrina, the New Orleans Dream Center was founded to care for those who cannot care for themselves or do not have the resources to do so, including the poor, the sick, the needy and the physically challenged.
The New Orleans Dream Center is based around a three pronged approach of practical help, fulfilling education and spiritual guidance. It is their stance that such a method can help pull those devastated to hope and restoration. Each year the center reaches over 1,000 individuals of various ages and cultures in providing them free services such as health care, adult education and after school programs.
Dr. Bowers-Plott, along with her two sons and husband, Dr. Todd Plott, helped restore the medical and dental mobile units where they will see patients. On the last day of the mission trip, they did a prayer walk and Adopt-A-Block in the French Quarter.
"It is a blessing to be able to help a city that is in such need of so many material and non-material things," says Dr. Bowers-Plott. "For my boys to see homeless people and hand them supplies and information about where to get help will hopefully keep them grounded and foster their desire to serve."
About Southlake Dermatology
Southlake Dermatology was established in 1999 and moved to its current, state-of-the-art-facility in 2006. Founded and lead by Angela Bowers-Plott, M.D, Southlake Dermatology provides medical, surgical and cosmetic services to treat and heal conditions of the skin including: anti-aging solutions, aesthetic and acne facials, hair laser, skin cancer, mole and tattoo removal, and skincare products which are available at http://www.MDSkinProducts.com. For more information, go to http://www.southlakedermatology.com or call 817-251-6500.