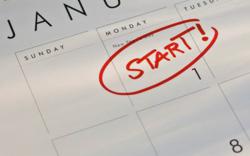 "Cheers to a New Year and another chance for us to get it right." ~ Oprah Winfrey
Charlotte, NC (PRWEB) January 18, 2013
SouthPark Hypnosis, leading provider of hypnosis for adults and children in Charlotte, NC, is offering a $50 New Year's resolution discount on all 3-session packages, now until March 15th, 2013. The goal is to help clients beat the odds and realize their resolutions instead of dismissing them by February or March.
SouthPark Hypnosis supports the effort of putting New Year's resolutions into practice by offering a $50 discount on all 3-session packages until March 15th, 2013.
Beginning of the New Year most people are still motivated to put their New Year's resolutions into practice and are hopeful of following through successfully. After a few weeks most people start sliding back into old habits.
Opinion Corporation of Princeton, NJ published following interesting statistics that show the slim chance of putting a resolution successfully into place:
Only 8 percent of people are always successful in achieving their resolutions.
19 percent of people achieve their resolutions every other year.
49 percent of people have infrequent success.
24 percent (one in four people) never succeed and have failed on every resolution every year. That means that 3 out of 4 people almost never succeed.
SouthPark Hypnosis explains that the main reason for sliding back into old habits is that most resolutions are not based on a concrete decision or firm commitment. Most resolutions are made without persuasion and little conviction. However, the successful execution of change requires time, persuasion, and perseverance. That is when hypnosis comes into play as an effective tool for changing subconscious patterns.
Success is limited and rarely long lasting, when attempting to change a habit or behavior through the conscious mind and its willpower. Any habit or behavior is a pattern that is manifested in the subconscious mind. That is why the undesired behavior has to be addressed first and foremost in the subconscious. Only then willpower and conscious effort in creating a new and healthy habit can be fruitful.
If you need in help in following through with your New Year's resolutions, call Verena Martin at (704) 550-1201 and mention this article for your $50 discount on a 3-session package now until March 15th, 2013.
SouthPark Hypnosis Center LLC is conveniently located in the greater South Park area in Charlotte, NC. Verena Martin, Consulting Hypnotist and Founder, provides hypnosis services to adults and children for a variety of issues. Areas of specialties: anxiety and stress management, and children.
SouthPark Hypnosis does not offer medical nor psychological services, but strictly hypnosis and education for self-improvement and personal development.