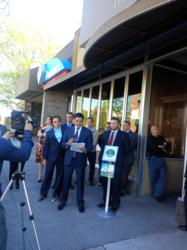 The towns are cleaner, safer, and more appealing to consumers.
Staten Island, NY (PRWEB) May 02, 2013
The South Shore LDC, formed to increase the economic vitality in the towns of Annadale, Eltingville, and Great Kills with a goal of creating a Business Improvement District, announced today that it is putting out a call to artists on Staten Island to capture scenes from each of the towns on June 22nd and 23rd between the hours of 10am and 4pm. The program, called Art in the Towns, is limited to the first 100 people who register online at http://www.SouthShoreLDC.org.
"This initiative is a great way to engage people across the island and not only highlight their artistic talents, but also to raise awareness of the businesses and beauty each of these South Shore towns has to offer," said Councilman Vincent Ignizio at a press conference held at Nove Restaurant in Eltingville.
Richmond County Savings Foundation is also supporting this initiative by providing each of the 100 registrants with a $50 stipend for their time. The art work will be collected and then placed throughout the towns.
The Councilman then announced the most recent services underway in Annadale, Eltingville and Great Kills under the auspices of The South Shore LDC which include a street sweeper in each town once per week seven hours per day, as well as security in each town 3 days per week on Thursday, Friday and Saturday for a period of eight weeks.
"We'd also like to let everyone know that we've installed five information kiosks housing information about the Art in the Town program as well as The South Shore LDC itself," said Anthony Rapacciuolo, the Program's Executive Director. "In addition, we will be providing merchants with decals for their storefronts, and we are also pleased to report that we are getting ever closer to the goal of forming a Business Improvement District and in fact held the second meeting of our Steering Committee this afternoon."
Joseph LaRocca, owner of Nove Restaurant in Eltingville, offered his comments on what The South Shore LDC has done thus far, and what it plans in the future.
"It's a great program, geared specifically towards increasing business for merchants in each of these towns," said LaRocca. "The towns are cleaner, safer, and more appealing to consumers, and while I've already experienced the benefits firsthand, as we move forward with the BID process, it will only get better."
For more information regarding The South Shore LDC and to register for Art in the Towns please visit http://www.SouthShoreLDC.org.