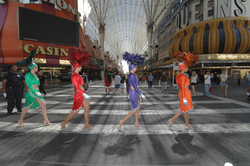 Southwest Airlines extends a warm thank you to the folks at BlogWorld, MGM Grand, and spigit for their support of the Las Vegas/BlogWorld contest
Dallas, TX (PRWEB) October 19, 2007
Are you nuts about Southwest Airlines? Visit Southwest Airline's blog, Nuts About Southwest , and you may have a crack at winning a free trip to Las Vegas, including complimentary airfare on Southwest Airlines , a three-night hotel stay at the MGM Grand, and registration to the BlogWorld & New Media Expo , the world's biggest blogging conference, scheduled at the Las Vegas Convention Center Wednesday – Friday, Nov. 7 - 9, 2007.
Southwest Airlines, the Official Airline of BlogWorld Expo – a monumental event celebrating the dynamic industry of blogging and new media – is offering a full travel package to the lucky blogger who submits the most popular caption for a photo , provided by the Las Vegas Convention and Visitors Authority.
"Southwest has been blogging for about a year and a half now, and the community we've built definitely has a unique – sort of "southwesty" – sense of humor," says Paula Berg, Southwest Airlines spokesperson and official "Blog Girl" for the airline. "This contest is just a way for us to have a little FUN with our bloggers, and, really, to celebrate the relationships we've built with them over the past year."
How does it work?
o Visit http://www.blogsouthwest.com
o Submit your photo caption or vote for your favorite photo caption
o The caption with the most positive votes by midnight Pacific Time on Friday, Oct. 26, 2007, wins the Las Vegas/BlogWorld travel package
What does the Las Vegas/BlogWorld travel package include?
o Roundtrip air travel for two on Southwest Airlines to Las Vegas from any city served by Southwest
o A three-night stay at the MGM Grand Hotel on the Las Vegas strip
o Registration for 2007 BlogWorld Expo, the biggest blogging conference in the world
The deadline to submit a caption or vote for your favorite caption is midnight Pacific Time on Friday, Oct. 26, 2007. The winner will be announced and notified on Monday, Oct. 29, 2007. The most popular caption – based on the highest number of positive votes by fellow bloggers – will win the Las Vegas/BlogWorld travel package. BlogWorld exhibitor and social media company spigit created the voting system for the contest with their award winning software.
"Southwest Airlines extends a warm thank you to the folks at BlogWorld, MGM Grand, and spigit for their support of the Las Vegas/BlogWorld contest" says Berg. "We hope all BlogWorld conference attendees will stop by our booth at the BlogWorld Conference on Nov. 8 and 9 to meet some of our regular bloggers and register to win two free roundtrip tickets on Southwest Airlines."
Southwest Airlines
Still a maverick, Southwest Airlines (http://www.southwest.com) was the first airline to offer its Customers a venue for open dialogue through a blog, Nuts About Southwest. With nearly 30 Employee bloggers that represent a mix of frontline and behind the scenes Employees, including Pilots, Flight Attendants, Schedule Planners, Customer Service Agents, Executives, Mechanics, Marketing Representatives, etc., Customers are able to participate in meaningful conversations and build personal relationships with Southwest Airlines' Employees.
BlogWorld
The first and only industry-wide tradeshow, conference, and media event dedicated to promoting the dynamic industry of blogging and new media, BlogWorld will feature exhibits and 60 seminars offered by iconic personalities on the leading-edge of online technology and internet-savvy business.
spigit
spigit is the only smart, social collaboration platform for identifying the best ideas and key contributors within any online community. spigit leverages advanced algorithms and a configurable analytics engine to capture and evaluate participation and contributions that happen within a social community, enabling the best ideas and contributors to shine. spigit powers a variety of community interest sites, including those for startups (spigit Innovation™) and elections (Vote spigit™), and allows special interest groups to build custom communities quickly and effectively to meet their community objectives. spigit's premier platform for business innovation, spigit Enterprise™, Allows large and small companies to make innovation a part of daily process, engaging employees and allowing top ideas and key influencers to be recognized.
Media Contact:
Paula Berg
214-679-5644
# # #