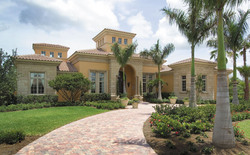 Buyers recognize the great value in today's market
Naples, FL (PRWEB) January 20, 2009
Southwest Florida developer Bonita Bay Group attributes the 2008 sale of 11 multi-million-dollar model homes in its upscale Mediterra community to the market's realization that now is the time to buy.
Great value is enticing today's buyers, especially those who have postponed decisions to buy real estate in Southwest Florida, said local Realtors. 'Buy now' is the mantra heard repeatedly, and Realtors predict today's great values may be short-lived as the market shows positive signs of recovery in the Southwest Florida area.
Bonita Bay Group reports single-family model-home sales at Mediterra this year have outpaced 2007. The 11 recorded sales posted to date totaled nearly $32.2 million, with an average sales price of $2.9 million. Only six model homes sold during 2007.
Home sales increased overall, from 46 during 2007 to 53 year to date. Fewer than 950 homes are planned for the Naples community.
The Naples Area Board of Realtors reports increased sales activity as well. Sales were up by 28 percent for the month of November and 16 percent year to date, increasing from 3,940 sales during the first 11 months of 2007 to 4,597 this year.
"Buyers recognize the great value in today's market," said Gary Dumas, vice president of Bonita Bay Group.
Also fueling the buy-now urgency is the developer's time-limited offer of sales incentives, including limited homeowner association fees and club membership benefits. Buyer confidence is enhanced by the developer's 25-year track record and the fact that all Mediterra amenities are in place, allowing buyers to experience the lifestyle. Mediterra is the premier Naples Florida real estate development.
"The Mediterra lifestyle is one of the most coveted in the Naples area," said James Nulf, a Realtor with Prudential Florida Realty in Naples and a Mediterra resident. "Bonita Bay Group has done an excellent job of providing a certain lifestyle and that's what people are looking for. They want to buy into a community with club amenities - golf, fitness center, tennis courts and the beach." Those amenities, said Nulf, are especially appealing this time of year, when vacationers are fleeing the cold and snow up north for the more attractive climate of Southwest Florida.
To learn more, call toll free 866-851-6645, or visit the Web site at http://www.mediterranaples.com.
###