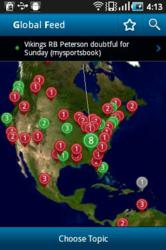 Social media has transformed news into a rapid and interactive channel of communication. Global Feed allows users to see this 'bigger' and more exciting picture.
(PRWEB) December 02, 2011
Global Feed is an intuitive and user-friendly app that helps users keep in touch with what is happening around the world. It is one of the first news feed apps to take advantage of the geo-tag technology to provide an engaging way to catch up on daily news. Featuring a fully navigational 3D globe that allows the user to quickly select news feeds from all parts of the world or zero into specific regions by rotating the globe and zooming in and out. News will never be the same – dynamic and interactive, it will connect users to relevant news in any location.
Global Feed allows users to see where the news has spread from the source. Save the news items of interest in the Favorites folder for quick and easy access later. Share ground-breaking stories with friends and family via social network plug-ins for Facebook, Twitter or simply forward the story using the built-in email function at the touch of a button. The app also comes with a colorful weather function that provides the latest weather information for major cities of the world.
Global Feed has a rich and stylish user interface helps to organize and access the information conveniently, and naturally. And with more updates and features to follow, will be the must have feed app for devices such as Android and iPhone.
Sergei Inyushkin, CEO & founder of Sovereign Dynamics said: "We are passionate about what we do. We want to build enjoyable apps that stand out from the crowd and bring some fun into this world. We know that people crave news at a local level, as well as seeing how national and international news affects them, so we developed this app to show them the information that is important around them."
Sovereign Dynamics LLC is a fresh new start-up based in Samara, Russia specializing in independent mobile app development for various platforms. Started in 2010, the company brings together a team of professionals with over 10 years' experience. Sovereign Dynamics LLC is aiming to establish a presence in the area of interactive and user experience rich mobile applications.
# # #