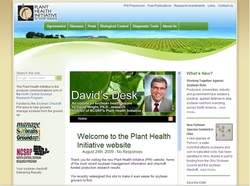 In addition, there's a new section - biological controls - that includes the latest research and recommendations on the natural enemies that can help you control soybean aphid
Urbandale, Iowa (PRWEB) August 25, 2009
The Plant Health Initiative (PHI), part of the North Central Soybean Research Program (NCSRP), is pleased to announce a website redesign for http://www.planthealth.info. "Our new site makes it much easier for soybean growers to find the latest science-based soybean management information and checkoff-funded production research results," says Dr. David Wright, NCSRP's Director of Research.
"We've improved the navigation and updated all the information on the site. We've also added several new features, including videos, podcasts, high-resolution photography, a new search tool and a 'contact us' section," Wright says. "All the upgrades are designed to help growers profitably manage soybeans from the ground up - that's the goal of the Plant Health Initiative."
According to Wright, "The revamped PHI site enables users to quickly access agronomic recommendations covering everything from soil preparation, planting dates, seeding rates, managing for high yields and precision agriculture."
On the site, soybean farmers also will find research-based, unbiased information on pest management and disease control strategies for problems such as aphids, soybean cyst nematode, Asian rust and sudden death syndrome. "In addition, there's a new section - biological controls - that includes the latest research and recommendations on the natural enemies that can help you control soybean aphid," Wright says.
Users can familiarize themselves with new and out-of-the-ordinary soybean pests and diseases using the online diagnostic tools such as the expanded photo galleries and scouting guidelines.
Other highlights on the Plant Health initiative site include access to no-cost publications and materials detailing the latest research from NCSRP-funded scientists and other checkoff-funded researchers. "There are terrific resources available," Wright adds. "All you have to do is listen to a podcast or download a PDF."
Visitors to the PHI website will also find links to national sites, such as the USDA PIPE soybean rust map. "There are also links to helpful state resources, including state soybean variety trials, crop reports and pest bulletins," Wright continues. "We invite all soybean growers interested in maximizing soybean yields to explore http://www.planthealth.info. Tell us what you think, what you find helpful and would like to see more of - and what we've missed."
The Plant Health Initiative represents a cooperative partnership between soybean checkoff boards and land grant universities from 12 North Central states, as well as private industry. The initiative's goal is to act as a resource that collects and dispenses valuable management information on a variety of soybean pests and diseases. The Plant Health Initiative receives its funding through soybean checkoff dollars and private industry support, and is administered by the North Central Soybean Research Program (NCSRP), its primary sponsor.
###