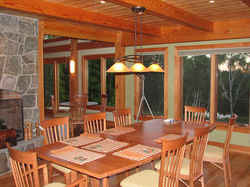 As the economy continues to offer its challenges, it great to have lower-cost alternative to a full timber frame home
Claremont, NH (PRWEB) October 19, 2008
Energy Smart Insulated Panel System (eSIPS); a new way to build green. eSIPS, a sister company to custom timber frame home manufacturer Davis Frame Company, has developed a new structural insulated panel (SIP) called Energy Smart Insulated Panel System that uses closed cell foam produced from soy beans grown in the United States. eSIPS are different from current SIPs by using an insulation product that is soy based. Soy is a renewable resource, the growing and processing of soy employs workers in the United States, and its use in foam lessens our dependence on imported oil and oil products.
eSIPS CAN BE USED TO BUILD:

Panelized Homes, offices, churches and more.
Timber Frame Homes and structures
Hybrid Homes
Custom homes
Garages & Additions
"As the economy continues to offer its challenges, it great to have lower-cost alternative to a full timber frame home," states Reid Greenberg, Director of Internet and Marketing for Davis Frame Company and eSIPS. "Our new Energy Smart Panelized System is a perfect option for cost effective green building, yet still with some timber frame accenting. We now have the ability to offer our products to a wider audience than previously."
eSIPS® BENEFITS:

eSIPS offers superior R values at competitive prices while addressing concerns for the environment.
Building with eSIPS structural insulated panels (SIPs) can cut home energy consumption by up to 50%. (Over conventional construction.)
eSIPS make Energy Star qualifications easier.
eSIPS can "stand alone" or be used with timber frame homes, post and beam construction, conventional construction, or as a panelized home.
The 1701 foam from BioBased Insulation® used to make our panels is GREENGUARD® Certified - meaning it safe for children, schools, and hospitals.
eSIPS are BuilderReady in that the interior surface is pre-drilled and exposed for easy installation of mechanicals.
WHY USE eSIPS OVER CONVENTIONAL STRUCTURAL INSULATED PANELS?
With eSIPS' Energy Smart Insulated Panel System® line (eSIPS), you will be well on your way to constructing a healthy living space with no harmful particles that could potentially filter through your home. Soy-based ingredients in our panels provide a more sustainable product and also decrease the use of petroleum which is commonly used in many of conventional panels on the market. The BioBased 1701 foam that is used to make our panels is GREENGUARD® certified for children and schools. So why not invest in your health and choose superb air quality for you and your family's new home?
WHAT TYPE OF HOME CAN YOU BUILD?
With the Energy Smart Insulated Panel System, eSIPS can help you design a custom home that can be a timber frame, log home, contain timber or log accents or simply a stand-alone panelized home, or whatever you may desire! Panelized doesn't mean your home has to be built in a box.
For more information, please visit their website: energysips.com.
eSIPSs is also happy to answer any other questions you may have either by email or phone:
info @ energysips.com
800.636.0993
energysips.com
eSIPS' talented design staff is ready to develop your energy efficient dream home so call now to get started.
###