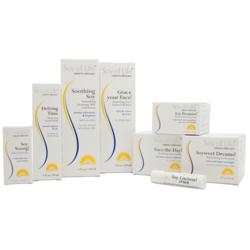 In my forty years in this business, I have never had a product come along that actually did what the box said it would… until Eye Promise! - Nancy Lane, beauty editor from World News Syndicate.
Plymouth, MA (Vocus/PRWEB) March 08, 2011
Soy of Life nature's skincare was founded and created in 2006 by Sherry Kelly after she had an allergic reaction to paraffin wax candles on Christmas Eve of 2005. Concerned for her health, she decided to research other candle alternatives which led her to Soy. She discovered through further research about the many amazing benefits that topical use of Soy has for the skin.
Soy is rich in Vitamin E, aids in the synthesis of collagen, proteins and elastin, promotes a naturally radiant complexion and can help fade age spots. Soy is now considered to be an active ingredient in skincare because of all that it can do, and is also now known as a "smart moisturizer" due to its ability to selectively target the different types of skin.
Excited with this new-found knowledge, Sherry passionately set forth to create a premium, high-quality and highly effective natural skincare line.
Soy of Life's mission is to provide a natural and common-sense approach to skincare using naturally active soy and other plant botanicals as a nutrient-rich base. Soy of Life focuses on integrating expertly chosen therapeutic-grade essential oils, in combination with other premium ingredients and natural actives, into skincare to promote healthy, naturally radiant and youthful looking skin. Soy is one of the best actives for aging skin and does not exert any hormonal effects or affect the body internally.
About Soy of Life:
Soy of Life is a family owned and operated business from Plymouth MA, started in April 2006. Sherry Kelly, a studied aroma therapist is the creator and founder, and her husband Rich handles the sales and marketing. Both Sherry and Rich also handle all of the other multiple day to day business operations.
Soy of Life's business began when Sherry discovered how amazing topically applied soy was for the skin. She scoured the internet, her town's local health food store, and the Whole Foods Market in Hingham, MA for a Soy skincare line, but could not find any. That's when Sherry made the decision to create a line herself. It became her passion to develop a natural and highly effective skincare line using this wonderful ingredient. After many months of extensive research and development including consulting with cosmetic boiologists and herbalists, her skincare line was launched with a handful of body products.
The company's immediate success led to further research and the development of the premium facial care collection and other products that make up the line. The feedback has been phenomenal. Customers, Estheticians and Beauty Editors have all commented about how highly effective the products are. In fact, the most common compliment customers receive is that they are told that their skin looks great and they have a healthy glow!
Currently, Soy of Life products can be found at most Whole Foods Market locations in New England as well as several other independent health food stores throughout the Northeast. A list of stores can be found on their website. Our products can also be purchased directly through the website at: http://www.soyoflife.com
###