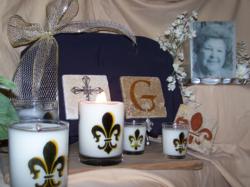 These are the best candles I have ever burned. I love that they are 100% Soy Wax, hand made in the USA and burn so long. These are the only candles I can smell throughout my entire home!
New Orleans, LA (PRWEB) June 29, 2011
Amore' releases its designer quality line of highly fragranced 100% Soy Wax Wooden Wick Candles that are poured in Hand Painted Fleur-De-Lis Glasses that can be Recycled and used as beautiful "Hand Painted Glassware".
Amore' Candles & Etc. was formed in Madisonville, Louisiana. It was conceived from "Memories In Light & Etc." which was started in Harahan, Louisiana in 2002. As with many businesses in the New Orleans area, Memories in Light fell victim to Hurricane Katrina. However, the company celebrates its come back with a rebranding and an exceptional new line of 100% soy wax candles.
Amore' Candles& Etc., LLC provides designer quality highly fragranced hand poured 100% soy wax wooden wick container candles, custom embedded special occasion and memorial hurricane candles, designer quality hand painted coasters and glassware, and beautifully designed ornamental glassware.
Realizing the company had to set itself apart from others required that its candles be exceptional in quality, unique and provide "lagniappe"- "a little something extra" as said in the "Big Easy". The company felt that a hand painted fleur-de-lis container that could be recycled and used as collector glassware would be a fantastic way to do such that, while expressing so many different feelings with a rich historical background.
The fleur-de-lis "flower of the lily" has many different meanings. Traditionally, it was used to represent French Royalty and is said to signify perfection, light and life. In the Catholic Church the lily is the special emblem of the Virgin Mary, with the three petals representing the Holy Trinity.
The Fleur-De-Lis, which was popular in the City of New Orleans before the devastation of hurricane Katrina became ever prominent afterwards. The emblem now symbolizes the city, flies proudly in neighborhoods, and is recognized by those far away and those still fighting to rebuild or return home to New Orleans.
A certain aroma coupled with the crackle of the wooden wick can bring you back to winter holidays shared with family and friends, good times had in the "Big Easy" or to a special day. Amore's exceptional line of 100% soy wax candles is sure to have a fragrance that will recall a special moment or create a new valuable memory.
Through the companies commitment to excellence and desire to exceed it's customers expectations, Amore' Candles & Etc. exceptional quality 100% Soy Wax candles have become powerful generators of emotion and memory.
For additional information on the news that is the subject of this release, custom product options or product availability, contact:
Anne Grant, Owner/Artisan
Amore' Candles & Etc., LLC
504-237-6063
http://www.amorecandles.com
# # #