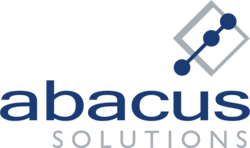 Atlanta, GA (PRWEB) July 12, 2012
Abacus Solutions, an Atlanta-based IT Infrastructure services and solutions provider was recently recognized on CRN's 2012 Solution Provider 500 List, formerly known as the VAR500, for the 9th consecutive year. CRN, a UBM-owned media outlet that provides news, analysis and perspective for VARS and technology integrators, annually publishes its list of top North American IT solution providers according to revenue generated from the sales of both products and services. Abacus continues to quickly rise in the ranks by achieving an impressive top 300 placement on this year's list. In just three years, Abacus moved up almost 200 spots from #470 in 2009 to an impressive #296 placement in this year's ranking.
"Over the past five years Abacus has strategically invested in the solutions and technologies that our clients tell us are the most important." said Patrick Hiller, CEO of Abacus Solutions. "Our continuous year over year growth is a direct result of our focus on our customers - delivering the technology and services they value most. Our IT solutions, managed services, and professional services, delivered by the best engineers and technicians in the business are paving the way for our future."
Throughout the last decade, Abacus has expanded its technology and talent base, adding key IT equipment partners and employing the most knowledgeable and client-focused IT engineers and representatives in the region. At Abacus, employees pride themselves on taking a more personalized, hands-on approach to solving even the most complex IT problems. Abacus' engineers undergo continuous training to ensure the newest technologies and processes can be smoothly integrated into any client's overall solution set.
Since its founding, Abacus has been fully committed to meeting and exceeding the needs of its customers. As the industry evolves, Abacus continues to proactively expand its competencies to include the best employees, partners, products, services and solutions.
About Abacus Solutions, LLC
Abacus Solutions strategically combines products, services and resources to deliver IT infrastructure solutions that solve your business needs. The company architects multi-platform enterprise-level server, storage and networking solutions, offering technologies from leading vendors. Abacus' solutions include virtualization, server consolidation, desktop and thin client architecture, delivery and support, enterprise storage and archival; comprehensive network solutions; and backup and business continuity services. For additional information, call 1-800-605-5446 or visit abacusllc.com.
---- A partial list of CRN's 2012 Solution Provider 500 can be found at (http://www.crn.com/sp-500/2012/index.htm).