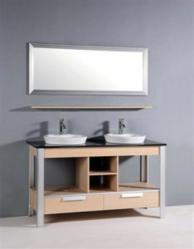 Those in the market for spa style bathroom vanities should look for a bathroom vanity that looks light and airy, but is built ruggedly enough to withstand the rigors of a daily steam bath.
(PRWEB) August 10, 2012
HomeThangs.com – the Home Improvement Super Store has made their goal to deliver the right product to the consumer, with that in mind, shopping and home design tips, as well as special product selections are being introduced.
Not so very long ago, immersive, luxurious, total bathing experiences were the sole realm of spas and swanky hotels. But with the price coming down on luxury bathing equipment across the board, home spas are becoming increasingly prevalent. From custom showers to deep soaking tubs and even home steam baths, it's entirely possible to get all of the equipment needed to enjoy the spa experience every day. But showers, bathtubs, and steam baths are not enough to convey that spa look: spa style bathroom vanities will complete the ambiance.
HomeThangs has introduced a guide to spa style bathroom vanities as well as a product selection for a modern Zen-inspired bathroom.
1. One thing that always has to be on hand in a spa is towels. Big, cushy, squishy, white towels all rolled up and stacked and stuffed in and on every available surface. Good towels make drying as important a part of the experience as getting wet. As such, many spa style bathroom vanities have an open shelf design. More specifically, many of them, like the Exhibit Vanity from Pegasus, have several smaller boxed-off shelves that are perfect for stuffing plushy spare towels to make sure there are plenty on hand.
2. If spa is part of a master suite and his and hers bathroom vanities are preferred instead of a double vanity, ones like Double Wall Mounted Spa Vanities from Bellaterra that have lots of towel storage will work great. It will not only give the bathroom an elegant, symmetrical, spa-like look and feel, but it'll ensure that everyone always has all the towels they need…
3. In addition to leaving lots of room for towels, having an open shelf bathroom vanity is important to a home spa because it makes the space feel open and airy. While large, cabinet style bathroom vanities have a certain indelible heft to them that works well in a grand, decadent bathroom, spa style bathroom vanities are beautiful in their simplicity. Home spas really thrive on being light, airy, and inviting, and adding a lot of white space in place of cabinets can go a long way towards creating a Zen sort of atmosphere. The Light Maple Spa Vanity by Legion Furniture, for example, leaves the bulk of the vanity open for towels, scented soaps, or just a lot of natural light.
4. Home spas have to be very well waterproofed to stand up to all the steam and splashing a huge volume of very hot water can throw at it: tile walls, well drained tile floors… and a very well waterproofed bathroom vanity. Where a typical solid wood bathroom vanity might not stand up well in a very humid environment, the Abba Vanity from the Wyndham Collection undergoes an 8 step painting and finishing process to ensure that the wood is superbly sealed and able to stand up to heat, moisture, and constantly fluctuating conditions. Plus, it's got space for four spare towels.
5. Many of the features that define spa style bathroom vanities are part style and part practicality. For example, there are a lot of slat-bottomed bathroom vanities, like the Loft Vanity from Avanity, in spas and home spas alike. For one, its part of the vibe – the wood slat construction is reminiscent of traditional wood saunas. There's something about the simple plank style that simply suits a lot of steam. But that's also because it helps everything drain more easily downward and lets the wood breathe, helping to avoid some of the common problems caused by wood expanding and contracting or warping when heated and cooled.
6. Light, unfinished looking wood (typically light maple or oak) is also very common in home spas, again in large part because of the influence of Nordic style saunas. Aspen, spruce, and cedar are all commonly used to build saunas, and are frequently a choice for spa style bathroom vanities. All three types of wood are naturally highly heat, water, and warp resistant, which makes then very well suited to the steamy task. The Bamboo Vanity from Legion Furniture is well suited for a smaller home spa, but the rugged bamboo wood is light, airy, and built to handle the harshest bathroom conditions.
Those in the market for spa style bathroom vanities should look for a bathroom vanity that looks light and airy, but is built ruggedly enough to withstand the rigors of a daily steam bath.
HomeThangs.com is not only a home improvement superstore, it also provides expert design tips and a comprehensive shopping guide, taking the ideas from professional interior designers, and offering tips to the consumers on how to pick the products to best suit their needs.