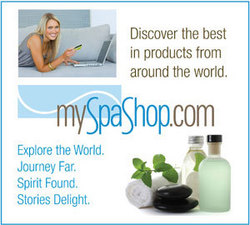 With the economic downturn consumers are looking for more affordable and accessible do-it-yourself wellness and spa experiences at home for those in-between spa visit treatments
New York, NY (PRWEB) September 30, 2010
Find affordable and accessible ways to treat yourself and your loved ones to unique home spa experiences, now that SpaFinder and SpaWish gift certificates are redeemable at mySpaShop.com(mSS). The home spa products e-boutique provides recipes on how to bring spa home to anyone, anytime with over 2,000 distinctive products and global artisans. Not everyone has the budget, time or ability to enjoy a spa visit, yet they do want to enjoy the healthy benefits of the spa lifestyle. Kimberley Matheson Shedrick, global spa consultant and founder of mSS says "With the economic downturn clients are looking for more affordable and accessible do-it-yourself(DIY) wellness and spa experiences at home for those in-between spa visit treatments. Feeling and looking good has never been more important for preventative health and inspiring happiness."
The recession has brought about four key consumer trends that revolve around value, escapism, health, wellbeing and home as the entertainment hub. mSS, SpaFinders and SpaWish have partnered to bring the spa lifestyle home. Within mSS's home spa treatments visitors will find wellness solutions and guides for providing unique spa experiences at home. Select from skincare products, bath and body products and soothing massage oils that include techniques and hints that will transform the home to a luxurious spa. If it is going to be a solo night, mSS has suggestions on how to pamper oneself for the evening, starting with a perfect bath described in their how to spa blog. They have numerous products and recipes for improving one's lifestyle with home fitness and stress reduction techniques.
Fueled by the "Do it Yourself-Home" (DIY) and Wellness phenomenon, mSS is an online marketplace for a wide selection of spa products, including hard-to-find products that are usually only available at global luxury spas. In addition to the at-home spa remedies mSS features, there are also hand-selected distinctive spa gifts for him, her, teens, babies, hostesses and pets. These gifts include wellness solutions, jewelry, spa lifestyle apparel such as robes and slippers, linens, gift baskets and home fitness products. There is also an Artisans Gallery featuring art, sculpture and crafts.
Visitors to mSS can also find and book spa appointments online, in partnership with SpaBooker, a division of Spafinder. The addition of SpaBooker's online system allows visitors to mSS the ability to locate spa treatments nationally and schedule appointments in real-time.
mSS also offers spa membership rewards. Participants earn m$$ dollars immediately on their purchases. Members can also earn m$$ points for every friend they refer to the site who registers on mSS. These points can then be used as cash once enough points have been accumulated.
Business owners can improve their company's online retail marketing strategy and earn additional revenue by joining the mSS spa sales affiliate program. mSS celebrates the warmth of community and serves as an online forum where members, from experts to consumers, can discuss all things spa.
About mySpaShop
mySpaShop.com (mSS) was designed by global spa consultants and is the web's first virtual spa, offering everything you need to lead the spa lifestyle – accessible to anyone, anytime, anywhere. mSS brings together experts, treatments and shopping, featuring the newest spa products and instant spa gift certificates. Top spa lifestyle advisors and beauty professionals educate site visitors on "Do It Yourself" healing rituals, massages and facials, fitness and exercise, turning the bathroom into a spa, bathing as therapy, cleansing, meditation, healthy living and beauty therapies. Users will find nutritional and weight loss advice and more than 2,000 of the newest spa products and skincare lines including many now only available at destination spas. Visitors will also find a community of like-minded people where they can share their stories and get peer support. mSS is the creation of Kimberley Matheson-Shedrick, President of Natural Resources Spa Consulting, Inc (NRISpa.com), a leading spa consultancy whose high-end clients include Trump Resorts, Cuisinart Art Resort and Spa in Anguilla, the Lapis at Fontainebleau Resorts in Miami Beach and Las Vegas, Princeville Resort in Kauai and the Four Seasons Hotels in Moscow, New York City and Vail.
About SpaFinder, Inc.
The world's largest spa media, marketing, and gifting company, SpaFinder, Inc., connects millions of wellness-focused consumers with thousands of spas worldwide. SpaFinder's media properties include the award-winning SpaFinder.com, the Club Spa e-newsletter and blog, and the annual Guide to Global Spa, Wellness and Beauty. SpaFinder and its spa-beauty gift division, SpaWish, offer gift certificates and cards that are redeemable at a combined network of over 9,000 spas and salons and are available at more than 90,000 unique retail outlets in 77 countries. The company's technology division innovates new solutions that help spas build and streamline their businesses, including the popular SpaBooker online booking system. SpaFinder Europe and SpaFinder Japan offer regional spa marketing and gifting programs, including localized, native-language websites. Founded in 1986, the privately held company is headquartered in Manhattan.
# # #