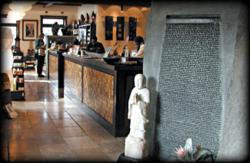 Palo Alto, CA (PRWEB) December 22, 2011
Watercourse Way Bathhouse Spa, a luxurious Bay Area day spa, offers a unique selection of gifts for the mind, body and spirit this holiday season. Visit its gallery, located at 165 Channing Ave. in Palo Alto, to see the latest offerings of fine jewelry, handmade objects d'art, Japanese incense, books, candles and relaxing music. They also offer exclusive body products filled with organic herbs, wild-crafted essential oils and soothing aloe vera.
Customers who cannot decide on what to get for their loved ones can give the gift of relaxation with a Watercourse Way gift card, which can be used on any of the spa's products and services. Available in different designs, the gift cards are produced from recycled bank and credit cards, revived by Ecocard. They are recycled and totally recyclable again, so when they are ready to be retired, simply return them to Watercourse Way for recycling.
Watercourse Way spa and skin-care treatments relax, cleanse, beautify and rejuvenate using the curative properties from nature to encourage the body and skin to restore its own vitality and beauty. Watercourse Way only utilizes the best seasonal organic products in its treatments and is currently working towards a Zero Waste program. Watercourse Way has also been a member of the Green Spa Network for more than a year.
For more information on Watercourse Way Bathhouse Spa, please call 650-462-2000, view Watercourse Way online at http://www.watercourseway.com or visit the store at 165 Channing Ave., Palo Alto, CA 94301.
About Watercourse Way
Opened in 1980, Watercourse Way Bathhouse Spa was inspired by the natural hot springs of Tassajara, a tranquil Zen retreat in Carmel Valley. Located in the southern part of downtown Palo Alto, at 165 Channing Ave., Watercourse Way is best known for its hot tub rooms. The day spa offers other services and spa packages, such as hot-stone massages, Ayurvedic purifications, deep-tissue massages, couples massages, and spa and facial treatments like the Jurlique facial-massage combination.
###