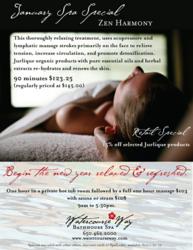 Wow! I still can't stop smiling after my one hour massage this afternoon
Palo Alto, CA (PRWEB) January 06, 2012
Guests can receive ninety minutes of bliss at the Bay Area's Watercourse Way for less this January with the Zen Harmony spa special. Reduced to $123.25 for the month, this spa treatment relaxes the guest through simply heavenly lymphatic massage and acupressure. The treatment is focused primarily on the face to help relieve tension, increase circulation and promote detoxification. Jurlique organic products will be massaged into the skin and their pure essential oils and herbal extracts will help to re-hydrate and renew dry and damaged skin. It is available from 9:00 a.m. to 9:30 p.m.
If the Zen Harmony spa doesn't do it, Bay Area day spa, Watercourse Way is also offering one hour in a private hot tub room followed by one full hour of massage for $103. If a guest wishes to add a sauna or steam to the package, it is $108. For guests who would like to take the spa experience home, Watercourse Way is offering 15 percent off selected Jurlique products. They offer many other wonderful spa packages and luxurious spa treatments for guests who want something different, longer or just to enhance these specials. The hot tub massage special is available 9:00 a.m. to 5:30 pm.
Visiting Watercourse Way is the perfect way to slough off the pressures of the holiday season.
"Wow! I still can't stop smiling after my one hour massage this afternoon. After an exhausting semester in college, I decided to treat myself - this winter break - to a massage. I read such great reviews about this place so it seemed like a no brainer. I got the one hour massage and it was incredible. Ali is seriously a genius! Hot towels, stones, lotion- it was a dream. My back, legs, feet, and neck are seriously going to thank me! The front staff was very nice, the facilities are gorgeous, and to reduce awkwardness, the tip jar is in the front when you leave," said Rachel E. of Berkeley.
For more information, please call 650-462-2000 or visit them on the web at http://www.watercourseway.com/. They are located at 165 Channing Ave. in Palo Alto.
About Watercourse Way
Watercourse Way Bathhouse Spa opened its doors in Palo Alto, California in the San Francisco Bay Area in 1980. Its inspiration was taken from the natural hot springs of Tassajara, a tranquil Zen retreat in Carmel Valley. At Watercourse Way, guests can treat themselves to a deep tissue massage or a romantic couple's massage, Ayurvedic purification, a rejuvenating f acial treatment or a relaxing spa treatment such as the Jurlique facial massage combination.
###