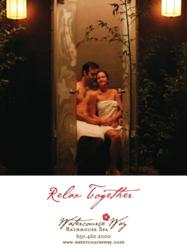 Begin with the refreshing experience of the Eminence Champagne Mimosa Sugar Scrub, which exfoliates and quenches the skin
Palo Alto, CA (PRWEB) February 16, 2012
Watercourse Way Bathhouse Spa, the most exquisite day spa in the San Francisco Bay Area for more than 30 years now, is currently offering a February champagne and chocolate spa special. Available until Feb. 28, the 90-minute champagne and chocolate treatment costs only $127.50, down from its regular price of $150.00.
"Begin with the refreshing experience of the Eminence Champagne Mimosa Sugar Scrub, which exfoliates and quenches the skin. Rinse away the scrub and enjoy a warming and relaxing steam to open pores and release muscle tension. Then return to the table to be immersed in the delicious scents of an Eminence Chocolate Truffle Body Wrap," Susan Nightingale of Watercourse way said. "Finish with refreshing Champagne Mimosa Toner Mist and your choice of Eminence Hydrating Apricot, Grape or Vanilla moisturizers, all of which decadently hydrate."
The treatment also includes an Eminence facial of coconut cleanser, chocolate mousse mask and facial moisturizer to achieve glowing skin that is perfect for Valentine's Day. To cap it all off, complete repose is assured with the mimosa champagne massage lotion.
In addition, Watercourse Way is offering selected Eminence products at 15-percent off. Eminence is handmade in Hungary with organic herbs, and fruits and vegetables. All products come with a lovely, therapeutic scent that is sure to induce relaxation at every use.
"Filled with the sweetest of indulgences, there is no better spa to go to renew your senses and your body. This spa has it all and the staff is knowledgeable and incredibly helpful," Marina S. of Los Altos said on Yelp.com. "If you are looking for a first-rate experience, look no further. The massage and spa package is perfect for rejuvenating your body and mind. You enter a Zen-like setting to rediscover paradise and the tranquility we all need and crave."
Watercourse Way invites guests to come and indulge in this month's luxurious special. A gift gallery of delectable chocolates, unique jewelry, and exceptional body and bath gifts also awaits clients.
For more information about the February special or any of Watercourse Way Bathhouse Spa's products or services, call 650-319-8052, view the day spa on the web at http://www.watercourseway.com or visit 165 Channing Ave. in Palo Alto.
About Watercourse Way Bathhouse Spa
Opened in 1980, Watercourse Way Bathhouse Spa was inspired by the natural hot springs of Tassajara, a tranquil Zen retreat in Carmel Valley. Located in the southern part of downtown Palo Alto, at 165 Channing Ave., Watercourse Way is best known for its hot tub rooms. The day spa offers other services and spa packages, such as hot-stone massages, Ayurvedic purifications, deep-tissue massages, couple's massages, and spa and facial treatments like the Jurlique facial-massage combination.
###