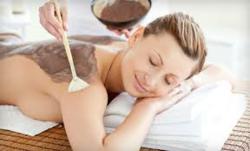 San Francisco, CA (PRWEB) September 25, 2012
September 24, 2012 – Spa goers in search of a relaxing transition from summer to fall, can schedule a body wrap treatment at the best day spa or health and wellness spa found on the largest online directory, SpaHub.com. Popular fall body wrap treatments typically start with a gentle exfoliating scrub using all-natural seasonal ingredients, which is followed by a warm, moisturizing massage. Spahub.com lists the spas offering these treatments, as well as user-reviews, maps and more.
As Spahub.com explains, there are many types of body treatments available. There are options for those needing help with acne, as well as many weight loss treatments, such as Thermage® and Mesotherapy. Body wrap treatments, however, are a relaxing way to treat the skin to a good exfoliation and give it the moisture it needs as the air outside becomes cool and dry.
The grainy exfoliate used to brush dead skins cells from the surface changes each season at most spas. The top fall trends include elements of spices, apples and pumpkins. Not only do these flavors add an aromatically pleasing affect, but the texture of certain spices can be a gentle alternative to harsher salt body scrubs.
Next, spa goers can expect to be wrapped up in warm towels that help deliver moisture deep beneath the surface of the skin. Some spas also offer seaweed wraps, as well as mud or clay mask applications. In addition to penetrating below the skin's surface, these treatment steps can detoxify the body and get rid of an unhealthy build up in the pores.
After the scrub is removed and the wrap is washed away, some spas have guests step into a nearby shower to rinse completely off with warm water. It's important during this step in the process to keep the water and air around the skin warm in order to keep the pores open.
The final step is the relaxing massage where fragrant or fragrance free creams and lotions are used to replenish the skin. Starting the fall season off with dry, irritated skin can be extremely uncomfortable. Building from a healthy foundation of lubricated skin, spa goers can ease into autumn with a healthy glow that comes from choosing the right type of fall body wraps. That search can begin at Spahub.com.
About Spahub.com
Spahub's mission is to create the largest Day, Medical and Getaway Spa Directory in the world. Spahub.com boasts more than 500 international spa features and locations. It's the most comprehensive sites that gives visitors access to almost any spa treatment around the world in addition to providing articles about highly sought-after cosmetic treatments. They strive to make the site a comprehensive place to learn about the different services spas provide. The goal is to provide every visitor an effective tool to quickly locate and explore a spa's amenities before taking one step out the door.