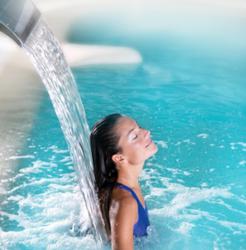 San Francisco, CA (PRWEB) May 21, 2013
Since ancient times people have been using water in a variety of ways to ease and heal a wide variety of ailments. A lot of people know that taking a hot bath is very relaxing but they really have no clue what other health benefits come with hydrotherapy.
The largest online spa directory, Spahub.com has now revealed the following different types of hydrotherapy procedures help people with a variety of ailments, and not to mention is also very relaxing:
1. Eases backaches, bronchitis, and feverish conditions:
A cold wet sheet is wrapped around a person after the excess water is squeezed out, and this is followed by a dry sheet on top of the cold sheet and warm blanket. This wrapping technique is a really effective hydrotherapy treatment, which helps these conditions.
2. Improve and increase blood circulation:
Hydrotherapy improves and increases blood circulation, especially the essential white blood cells. This enhances the body's ability to fight against diseases and also increases overall energy levels because the immune system gets stronger thanks to better circulation.
3. Relax the muscles:
By taking a bath with a temperature of 36.5-40 degrees, you will be able to relax your muscles. This kind of bath does not have to last long – 5 minutes to begin with is enough.
4. Recover from upper respiratory tract infections:
These Spa procedures help white blood cells to reach the affected areas quicker, the airways open up, respiration is increased as well as general heath improved.
5. Rehabilitation from stroke and injuries:
Hydrotherapy procedures help the body to recover and heal faster from injuries and strokes. The reason why hydrotherapy procedures are used more often with such conditions, is because it is very safe and relaxing.
Spahub.com's team has provided a more in depth explanation of each of these benefits spa hydrotherapy has to offer on their latest wellness blog post.
With Spahub.com's expansive online spa directory and more informational resources on these top 10 spas (and more), visitors can find what they need to locate a spa in their local areas anywhere in the U.S. and Canada.
About Spahub
Spahub's mission is to create the largest Day, Medical and Getaway Spa Directory in the world. They strive to make the site a comprehensive place to learn about the different services spas provide. The goal is to provide every visitor an effective tool to quickly locate and explore a spa's amenities before taking one step out the door. For more information, please visit http://www.spahub.com.