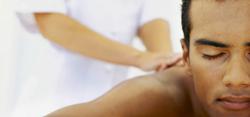 San Francisco, CA (PRWEB) August 28, 2012
A recent study by Milton published in the New York Daily News points to unprecedented growth in spas for men who are seeking treatments like those found on Spahub.com. The study attributes the increase in demand for men's manicures and pedicures to social media, where men are able to break the ice for other men, trying out different salons and reporting back. The ability to leave reviews on sites like Spahub.com gives men the opportunity to have other men try these spas and treatments first.
Spahub.com boasts more than 500 international spa features and locations. It's the most comprehensive site that gives visitors access to almost any spa treatment around the world in addition to providing articles about highly sought-after cosmetic treatments.
The article mentions a trend in male-specific salons, which offer anything from a close shave to a haircut. "But among males aged 18-34, 25 percent said they had gone for a manicure or pedicure, and 20 percent had treated themselves to a facial," the article states.
From New York to Dubai, guys can now find spas that cater to men-only. The business is growing because unlike their female counterparts, male spa-goers are more likely to establish a weekly routine of visits, according to the International Spa Association. These businesses still provide common spa treatments like massages and waxing, but they are offering them in a facility design to appeal to men's aesthetics. Some of them are even serving cold beer.
Other procedures, like acupuncture, massage, colon therapy, and hair removal at spas for men promote healthy living. In addition, the licensed professionals at a health spa can help men put together weight loss programs that will help them be healthy in your day-to-day life.
While some people might think it is macho to not care about their appearance, the truth is that men are judged on their appearance just as much as women. Spas for men can help them improve their appearance so they can be more successful at work and in social situations.
Facials promote good skincare; hair removal makes them look younger and microdermabrasion can minimize scars and facial marks. These are just a few of the treatments found on Spahub.com to help men look their best.
About Spahub.com
Spahub's mission is to create the largest Day, Medical and Getaway Spa Directory in the world. They strive to make the site a comprehensive place to learn about the different services spas provide. The goal is to provide every visitor an effective tool to quickly locate and explore a spa's amenities before taking one step out the door.