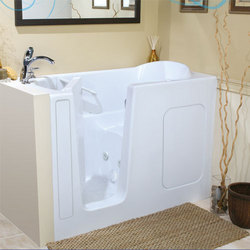 Valley Stream, NY (Vocus) May 18, 2010
There have been so many instances where someone in need of a walk in tub has purchased one of the many foreign walk-in tubs on the market today and have been unable to install it in their homes because it does not meet the required quality standards for the proper installation licensing. Unlike many foreign made tubs, US-made walk in tubs meet North American quality standards and regulations. This is an unfortunate situation as most often, those looking for a walk in bathtub are in need of a safe and comfortable bathing solution.
Quality walk in tubs allow you to feel comfortable and safe while enjoying a relaxing bath or shower. It goes without say that as people age, some of the everyday activities like getting in and out of a bathtub become more difficult. It is important for a walk in tub provider to understand the process of aging and the natural changes that go along with it. This is why honest senior bathing companies put so much care and time in providing high-quality, affordable walkin bath tub that is easy to get in and out of and includes additional safety measures such as anti-slip floors, grab bars, and a very low step in.
Anti-slip floor is a standard but the most anticipated feature in all walk in tubs. Recent research revealed that almost all fall accidents occur in bathrooms. Slippery bathtub floors became a big concern for elders and disabled people. With special anti-slip floor surface and a grab bar that comes pre-installed in most walk in bath tubs, users can feel safe and protected. Finally, the low-step in threshold in step-in bathtubs and a wide door opening in standard walk in bathtubs allow users to enter or exit the bathtub without complications. Tight door seal which is often covered by a separate warranty, prevents doors from leaking water and ensures safety and convenience.
Besides the safety and comfort benefits, walk in tubs usually come with the option of luxurious and hydrotherapeutic features with great health benefits. Features like hydrotherapy and air therapy not only relax users during bathing, but also help improve blood circulation, heal joint aches, arthritis and much more. Hydrotherapy or, as some refer to it, water massage system consists of several jets located throughout the walk in tub's interior and a motor that generates water pressure. Watch out for cheap, imported jets that cannot be controlled. Almost all water jets that are manufactured in United States allow users to control the water stream direction and adjust the level of pressure through each jet individually.
Chromatherapy or "air bubble massage" also comes as an option for nearly all walk in tubs models. It consists of multiple air jets equally allocated around the seat and, sometimes, both walls. It is possible to color-coordinate chromatherapy jets. Default air jets colors are white, biscuit (taupe), and chrome. Additional color shades may vary per walk in tubs manufacturer.
Whereas above-mentioned features usually come standard with all walk-in tubs, it is important to consult with a local provider before making a purchase. Many companies do not adhere to US plumbing and safety standards, therefore, always ask for IAPMO and ETL certifications.
###