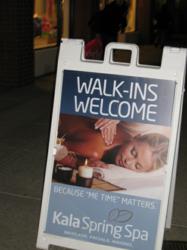 Stamford, CT (PRWEB) March 07, 2013
Stamford's new Kala Spring Spa, a day spa focusing on health and wellness, is now open. Offering a variety of massage therapies, facials and waxing, Kala has a relaxing treatment for every client. The licensed massage therapists on staff can customize massages, giving clients personalized treatments to relieve stress and tension.
Taking inspiration from the Greeks, Kala Spring Spa derived its name from the Greek word 'kala,' meaning 'well' or 'good,' and 'wellspring' meaning ' a source of continual supply.' Ancient Greeks developed massage techniques to condition athletes for competition, and combined massage with herbs and oils to treat medical conditions. Greek women also recognized the benefits of massage and oils as part of a beauty regimen.
Kala Spring Spa also offers facials that cleanse, exfoliate, and soothe the skin. Offering a range of facials, including classic facials, Anti-Aging Collagen, De-Tox, Sensitive Skin, Rejuvenation, Teen facials and Men's facials, Kala can help their clients maintain healthy, balanced skin. With Kala's wellness program, members can take advantage of special prices and discounts on Kala's massages and facials. For a monthly fee, members receive one 50-minute massage or signature facial each month, as well as discounts in the store.
About the company:
If you need relief, and a chance for some real rest and relaxation, take a much needed mental health day and join us at Kala Spring Spa! At Kala Spring Spa we offer a variety of services to help you look and feel your best. Our professional massages can help to reduce muscle pains, stress, anxiety, headaches, strengthen your immune system, increase circulation, remove toxins, and lower heart rate. Our facials help to hydrate your skin, slow down the premature aging of your skin, as well as unclog your pores through exfoliation. Our waxing services leave your skin smooth and last up to 3 to 8 weeks. These are just a few of the many benefits our services can offer you, so whether you decide to go for a hot stone massage, classic facial, bikini wax, couples massage, men's facial, or full leg wax, we're sure that you'll be pleased with the results!
For more information on Kala and their services, visit kalaspringspa.com or call (203)325-4000. We're located at 2333 Summer Street in the Ridgeway Shopping Center. For more information, please visit their website at http://kalaspringspa.com/.