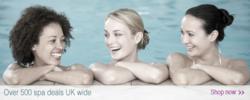 Spa days offer so many great health benefits that they should be available on the NHS
(PRWEB UK) 20 October 2011
For people who are dreading the onslaught of wind, rain and cold weather, and those who think that hibernation is the way forward for winter months, spa break provider SpaSeekers.com could have the answer. A spa voucher is the perfect pick-me-up for the winter blues – and may even help bring on a cold-free winter.
The optimum time of year to think about health and lifestyle ready for the winter is the end of October – and to successfully negotiate the coughs, colds and downsides of the colder months, it's important that people eat well, sleep well, and manage stress levels.
A spa day is a positive way to take care of health and well being and help with all three of the above – they offer so many great health benefits that they should be available on the NHS...

Eat well - spa menus may not be lettuce leaves and fresh air any more but most spa menus are packed with fresh, seasonal produce that tastes great and does you good.
Soothe stressed, aching muscles with a session in a sauna, a massage or a pounding under a hydrotherapy jet. Sitting in a Jacuzzi is another way to soothe tension away.
Calm frazzled nerves with a steam room session, relaxing aromatherapy treatment or just sit in the relaxation area with a herbal tea and a magazine.
Enjoy some scrumptious spa beauty products to try at home – or a treatment in the spa to take you away from it all and leave anyone more relaxed than they thought possible.
A spa break is the definitive kick start to any 'look after yourself' plan. Spas in the UK have already started to plan for the impending winter and with the help of SpaSeekers have come up with some amazing cheap spa deals to help with recharging batteries, giving refreshed and revitalised spa-goers the energy to power on through the winter with a smile on their face.
SpaSeekers are offering everybody who buys a voucher for any pamper day a generous £15 discount. The spa voucher can be used towards any of the fabulous, health-promoting spa days on the SpaSeekers website, which features bargain spa deals for top spas such as Champneys, Ragdale Hall and many, many more. All people need to do is go to the spa vouchers page and enter discount code soc091115.
Notes to Editors
SpaSeekers was established in 1989 and has been online since 1999. Advisers are knowledgeable about spa types and locations and offer a FREE advice and booking service.
SpaSeekers.com boasts an unrivalled nationwide coverage of spas with over 350 across the UK. Spa Seekers customers receive the benefit of spa deals, many offered exclusively. SpaSeekers works with well-known spa brands, for example Champneys, QHotels, Marriott, De Vere, Saks Hair & Beauty, and Ragdale Hall.
Spa days are available in open dated gift voucher format, valid for six months from the date of purchase or post-dated on request. Personalised and gift wrapped vouchers are also available.
http://www.spaseekers.com
Tel: 0845 555 8 555
###