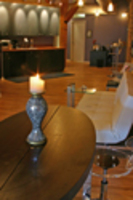 Energizing Your Cosmetic Performance, latest step by step skin care techniques to enhance your make up!
Chicago, Illinois (PRWEB) September 16, 2008
The grand opening events are now set for JuvenesseSpa, the exclusive Skincare Spa and Lifestyle Studio, opening September 21, 2008 in Chicago's downtown River North art, culture and beauty district. September 21st, the United Nations International Day of Peace is significant to JuvenesseSpa because of the spa's direct support of http://www.peacejourney.com Youth Adventures, the socially responsible program founded by Jeannette Kravitz, CEO of JuvenesseSpa and Skin Care.
The spa, within walking distance for most River North residences, works with the River North Residence Association and River North Association to facilitate local residential and business relationships within the community. Having lived in the River North neighborhood for 15 years, Jeannette and her husband Randy Kravitz have a real appreciation for the neighborhood's growth and development.
"The changes to this neighborhood from vacant factory buildings and open lots to upscale art galleries, fine dining and luxury residential in the last few years have been truly remarkable", says Jeannette Kravitz. "Our spa is a convenient retreat from the stress of the day where clients come to relax and pamper with a uniquely intimate and personal experience".
Overlooking Erie Park and the Chicago River in an early 1900's brick and timber loft, the 2 room treatment spa specializes in Facials customized to clients unique skin issues, Massage, Reflexology, Reiki, Make up application and Waxing. The space is also used as a Lifestyle Studio featuring events, classes, keynote speakers, workshops and private parties, as well as showroom space for Juvenesse skin care products and the new ColorEARTH line of mineral based cosmetics.
With over 23 years experience as a provider of quality skincare, Juvenesse recently introduced their new line of PEACE Spa products, researched and developed for over a year by Aestheticians and skin professionals. JuvenesseSpa is currently the exclusive outlet for PEACE Spa products and plans are in the works for a 2009 national launch to a limited number of exclusive boutique spas.
Grand opening activities are highlighted by "Mozart In The Park For Peace", a concert performed by New Millennium Orchestra String Quartet on the Erie Cafe Patio space in Erie Park. The concert is hosted by JuvenesseSpa as a community supported fundraising event helping peacejourney.com Youth Adventures 501c3. Other local supporters and sponsors are Citizen Bar, MonaVie health drink, Swirlz Cupcakes, MaiChef Cuisine caterers, Peak Organic Beer, David Barton Gym, Caribou Coffee, Steaz Organic energy drinks, 7 Eleven, The Flower Pedal, Incubrands Spirits Group and Riva Entertainment.
Guests to the grand opening receive customized and complementary mini-spa sampling services including Massage, Reflexology and Eye Zone Treatments, along with goodie bags and gift cards to the first 100 attendees. Speakers include Liz Grotte, Skin Care and Color Expert, speaking on "Energizing Your Cosmetic Performance, latest step by step skin care techniques to enhance your make up!"; Bante Designs specialists in Feng Shiu; and surprise guest speakers. Featured art is provided by Midori and Addington Gallery.
About Juvenesse Spa and Skin Care:
Juvenesse Skin Care, a full line skin care brand was founded over 23 years ago with department store distribution, such as Bloomingdale's in New York and Chicago. Current owners Jeannette and Randy Kravitz acquired Juvenesse in 2006 with plans to transform the business into an exclusive brand closely associated with their social missions. Jeannette Kravitz founder of sponsorKIDS Charities, Inc. 501C3 has been the driving force behind the Peace Journey Program, as well as other local, national and international programs to help women and children.
Contact:
Jeannette Kravitz, CEO
Juvenesse Spa and Skin Care
312-944-1211 x133
http://www.juvenesse.com
# # #