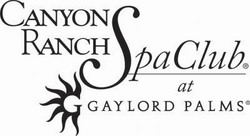 Kissimmee, Fla. (PRWEB) May 12, 2008
Canyon Ranch SpaClub at Gaylord Palms Resort has introduced a new menu of treatments. The revised menu features new treatments, including several exotic rituals.
Highlights:
-- Abhyanga (a "four-handed" massage): Balance, purify and relax as two therapists perform a synchronized, full-body and head massage using warm oil. This traditional ayurvedic therapy releases toxins, enhances immunity, nourishes the skin and creates deep relaxation in body and mind.
The story: As spa-goers become more spa savvy, they are looking to experience treatments beyond a standard massage or facial. To encourage this menu exploration, spas, such as Canyon Ranch SpaClub at Gaylord Palms, are introducing services that tie back to ancient methodologies and cultures. Abhyanga is an ayurvedic treatment, which is a centuries-old system of body care from India.
-- Muscle Melt for "Road Warriors": A treatment developed by the people of Thailand to ease aches and pains of warriors returning from war. Warm herbal pouches are firmly pressed into muscles to ease and melt the aches and pains out of every inch of your body. Traditional Thai oil massage with lemongrass oil releases any lingering tension, resulting in a calmer state of mind and a body that's ready to go out and conquer the world.
The story: At spas located inside business-focused and meetings-focused hotels, there is an increased need to provide treatments that appeal to the male demographic. Although spas continue to experience increased demand from males, their most popular request is a standard massage. Treatments such as Canyon Ranch SpaClub's new Muscle Melt for "Road Warriors" - based on an ancient and exotic Thai practice - give men an opportunity to try new approaches to relaxation without treading into "girlie" territory.
-- Dilo Revitalizing Wrap: Too much fun in the sun can result in dry, damaged skin. Cool off and start repairing damage fast with the amazing nut extract of the dilo tree, known in Fiji as the tree of a thousand virtues. Dilo nut oil is high in calophylic acid, which speeds healing and repairs free radical damage due to sun and environmental factors.
-- Hydrating Paradise Wrap: Hydrating for skin and detoxifying for your whole system, this treatment will leave your mind renewed and body restore. First, your skin is gently dry-brushed. Then warm, vitamin- and antioxidant-enriched coconut oil is applied. Finally, you'll relax as a moisture wrap, warm oil scalp massage and mini cold-stone facial relieve all tension. This indulgent treatment leaves you hydrated, balanced and fully restored.
The story: Spas are not just about relaxation. For instance, Canyon Ranch has become recognized as the world's premier wellness lifestyle company. True to the vision of its founders, Mel and Enid Zuckerman, every Canyon Ranch venture is geared toward wellness and the power of possibility within each person. At Canyon Ranch SpaClub at Gaylord Palms, a new Dilo Wrap helps to repair sun-damaged skin… a common need for those visiting the Sunshine State. Another new treatment, the Hydrating Paradise Wrap, helps restore hydration, while incorporating massage elements.
-- Fijian Marau Ritual: Indulge in the ultimate island pampering. Marau, or "happy and satisfied," is the way you'll feel after experiencing this ancient ritual. You'll start by bathing in coconut milk infused with exotic Fijian oils and botanical extracts to relax the body and ease the mind. Fijian scrub and exotic nut oils are then used to gently exfoliate and buff the skin and prepare it for a revitalizing moisture wrap. A Fijian scalp massage concludes this ultimate journey through the South Pacific. (80 minutes)
-- Red Flower Japan: This 100-minute ritual based massage is a vitalizing flow: breathe, release, purify, energize, soften and soak. This four-part treatment combines the therapeutic properties of flower oils and fruit essences with rich minerals from the earth and sea. Be deeply scrubbed with ohana ginger grass, polished with cherry blossom rice, and hydrated with rose, camellia and plum. Finish with a massage with kinmoxei wild-lime silk oil to energize and restore the entire body.
The story: As spa-goers become more spa savvy, they are looking to experience treatments beyond a standard massage or facial. While exploring new sections of the menu, most spa-goers are intrigued by services that tie back to ancient methodologies and cultures. The new Body Rituals Menu at Canyon Ranch SpaClub at Gaylord Palms features five services that combine multiple elements tied to an exotic destination or culture.
It is often difficult for people to find three or four hours to stack spa treatments. Canyon Ranch SpaClub is on the forefront of this trend, by introducing new options that combine multiple experiences in one 50- to 100-minute treatment. More than a sampler, these new treatments are complete rituals that offer an exotic experience by combining elements of massages, wraps, scrubs and polishes.
The new menu of treatments (in pdf form) can be found online at: http://www.gaylordpalms.com/spa
About Gaylord Palms
Gaylord Palms Resort & Convention Center, a certified Florida Green Lodging hotel, has gained the attention of the meeting and convention industry by providing world-class convention and leisure-focused amenities - all in one place. The award-winning Gaylord Palms is a Gaylord Hotels-branded property owned by Gaylord Entertainment (NYSE: GET), a leading hospitality and entertainment company based in Nashville, Tenn. For more information, visit gaylordpalms.com or gaylordentertainment.com.
[Editor's Contact: Keith Salwoski, Gaylord Palms Resort & Convention Center, 407-586-0315]
[Guest Contact: Canyon Ranch SpaClub Reservations, 407-586-0000]
# # #