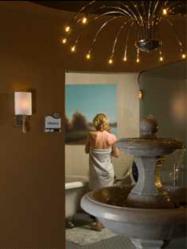 We feel privileged and honored to be able to meet the high standards of SpaFinder readers.
Glenwood Springs, Colo. (PRWEB) October 04, 2011
With its one-of-a-kind amenities, Glenwood Hot Springs has been a famous Colorado destination for well over a century. In 2008, the resort opened Spa of the Rockies, a modern spa focused on health and wellness that occupies a renovated 123-year-old historic bathhouse. Though only open for three years, SpaFinder readers have selected Spa of Rockies as one of the Top 10 Mineral and Thermal Spas in the world.
On September 27, SpaFinder, the global spa resource for millions of spa enthusiasts, announced the results of its 2011 Readers' Choice Awards, naming Spa of the Rockies a top pick among readers. "With over 80,000 spas worldwide, for Spa of the Rockies to be named a SpaFinder Readers' Choice is a tremendous tribute and a result of the dedication and hard work of our Glenwood Hot Springs staff," said Kjell Mitchell, General Manager and Chief Operating Officer for Glenwood Hot Springs and Spa of the Rockies. "We feel privileged and honored to be able to meet the high standards of SpaFinder readers."
The 2011 awards were based on votes submitted worldwide at SpaFinder's global consumer websites, including SpaFinder.com, and by readers of SpaFinder publications. Voters were asked to cast ballots only for spas they've personally visited within the past three years. Spas from six continents and 44 countries were nominated. "SpaFinder was the first to offer people the opportunity to vote for their favorite spas in diverse categories, providing a fast, accessible way for spa goers to make decisions based on what's important to them," said SpaFinder President Susie Ellis. "They have become an important consumer guide, as well as an industry accolade." Readers' Choice Award winners will be featured in the annual NewBeauty SpaFinder: Guide to Global Spa, Wellness & Beauty, and can be found now at SpaFinder.com.
Spa of the Rockies is located poolside at Glenwood Hot Springs in the Colorado Rocky Mountains. Inside the historic sandstone bathhouse, spa guests will find treatments that feature organic botanical and mineral ingredients. All Spa of the Rockies experiences incorporate holistic elements that promote health and wellness naturally. Top treatments include the Spa of the Rockies Mineral Massage, Stonecrop Extreme Hydration Body Cocoon, Rosehip and Maize Gentle Renewal Facial and customized private mineral soaks.
Avalon Lionheart, Spa of the Rockies Manager, will travel to Las Vegas to receive the SpaFinder 2011 Readers' Choice Award at the ISPA's annual conference on November 8. For more information or to book a treatment at Spa of the Rockies, please phone 970-947-3331 or visit online.
About Glenwood Hot Springs
Glenwood Hot Springs is a landmark Colorado resort located along I-70 at Glenwood Springs, approximately 165 miles west of Denver and 90 miles east of Grand Junction. Famous for its enormous hot springs pool, other amenities include the Spa of the Rockies, the Glenwood Hot Springs Lodge, an athletic club, a restaurant open for breakfast and lunch, a retail store specializing in swimwear, and a miniature golf course open seasonally. For more information, please visit http://www.hotspringspool.com or call 800-537-SWIM (7946) or 970-947-2955. Current press releases, a press kit, photos, and a live web camera are available at http://www.hotspringspool.com/x.php?p=PressRoom.
Media Contact:
Kerstin Brixey, Sales Assistant
Glenwood Hot Springs/Spa of the Rockies
970-945-3324
kbrixey (at) hotspringspool (dot) com
or
Vicky Nash
Resort Trends, Inc. – media communications for the travel & tourism industry
970-948-4923
pr (at) hotspringspool (dot) com
About SpaFinder
The world's largest spa media, marketing and gifting company, SpaFinder, Inc., connects millions of wellness-focused consumers with thousands of spas, yoga, Pilates and fitness studios and wellness practitioners worldwide. SpaFinder's media properties include the award-winning http://www.spafinder.com, the Club Spa e-newsletter and blog, and the annual NewBeauty SpaFinder: Guide to Global Spa, Wellness & Beauty. SpaFinder and its spa-beauty gift division, SpaWish, offer gift certificates and cards that are redeemable at a combined network of over 9,000 spas and salons, and are available at nearly 1,000,000 unique retail outlets in 79 countries. SpaFinder Europe and SpaFinder Japan offer regional spa marketing and gifting programs, including localized websites. Currently celebrating its 25th anniversary, SpaFinder is a privately held company headquartered in Manhattan.
Media Contact:
Betsy Isroelit
Betsy (at) SpaFinder (dot) com
213-300-0108
###