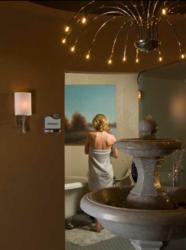 We are thrilled to receive this prestigious award. It's an honor to be selected two years in a row and rewarding to know that our guests have an outstanding experience when they come to Spa of the Rockies for a treatment
Glenwood Springs, Colo. (PRWEB) October 23, 2012
Spa of the Rockies at Glenwood Hot Springs was recently recognized as a winner in the 2012 SpaFinder Readers' Choice Awards in the category of Best Mineral or Thermal Spring Spa. Though Spa of the Rockies is the newest addition to the 125-year-old Glenwood Hot Springs, best known for its two enormous hot springs pools, the Spa of the Rockies is steadily gaining a devoted following with spa-goers worldwide. This marks the second time in two years that Spa of the Rockies has been voted a SpaFinder Readers' Choice.
"We are thrilled to receive this prestigious award. It's an honor to be selected two years in a row and rewarding to know that our guests have an outstanding experience when they come to Spa of the Rockies for a treatment," said Megan Swanton, director at Spa of the Rockies.
SpaFinder unveiled the results of the annual Readers' Choice Awards on Monday, October 15. The 2012 awards were based on votes submitted worldwide at SpaFinder's global consumer websites, including SpaFinder.com, and by readers of SpaFinder Wellness digital publications. Voters were asked to cast ballots only for stay and day spas they've personally visited within the past three years. Spas from six continents and 44 countries were nominated. According to SpaFinder, with a growing worldwide spa community the competition for the awards becomes fiercer with each passing year. In 2012, its tenth year polling readers, SpaFinder tallied more votes than ever before in the Awards' history.
"Working your way to the top of a global industry crowded with tens of thousands of hotel, resort and destination spas is nothing short of an extraordinary feat," said Susie Ellis, president of SpaFinder Wellness.
At Spa of the Rockies, the health and wellbeing of guests is the top priority of every member of the spa staff. Spa services including massage, Vichy and other body treatments, reflexology, facials and nail services use potent biodynamic and organic products from around the world. Also, with the world-famous Glenwood Hot Springs Pool just steps away, many Spa of the Rockies guests choose to incorporate a pre-treatment soak in the hot springs. The mineral-rich water is still considered sacred by the Ute Indians, and for over 100 years visitors from around the globe have enjoyed the relaxing and healing properties of the thermal springs. To view the SpaFinder Awards, please visit http://www.spafinder.com/rca/category-winners.htm. For more information or to book a treatment at Spa of the Rockies, please phone 970-947-3331 or visit Spa of the Rockies online at http://www.spaoftherockies.com/.
About SpaFinder Wellness Inc.
SpaFinder Wellness is a wellness discovery engine that connects millions seeking a healthier, happier lifestyle with wellness providers around the globe. Its unique digital platform gives people everywhere the ability to discover, search, evaluate and reserve the services they want, at the time, location and price that they desire — whether they are seeking spa, fitness or wellness experiences.
About Glenwood Hot Springs
Glenwood Hot Springs is a landmark Colorado resort located along I-70 at Glenwood Springs, approximately 165 miles west of Denver and 90 miles east of Grand Junction. Famous for its enormous hot springs pool, other amenities include the Spa of the Rockies, the Glenwood Hot Springs Lodge, an athletic club, a restaurant open for breakfast and lunch, a retail store specializing in swimwear and a miniature golf course open seasonally. For more information, please visit http://www.hotspringspool.com or call 800-537-SWIM (7946) or 970-947-2955. Press releases, a press kit, photos, and a live web camera are also available.
Media Contact:
Jeremy Gilley, Director of Sales and Revenue
Glenwood Hot Springs/Spa of the Rockies
970-945-3324
jgilley (at) hotspringspool (dot) com
or
Vicky Nash
Resort Trends, Inc. – media communications for the travel & tourism industry
970-948-4923
pr (at) hotspringspool (dot) com