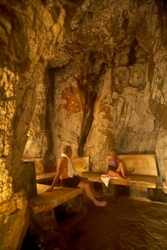 We are fortunate to have such a diverse spa community in Glenwood Springs. Many visitors incorporate spa treatments into their vacations and find that it is one of the highlights of their visit here
Glenwood Springs, CO (Vocus) March 17, 2010
Watsu, ashiatsu, and vichy are some of the terms associated with the spa culture in Glenwood Springs, Colorado. Since those early days, dating back to 1885 when the town was dubbed the Spa of the Rockies because of its inimitable hot springs and spas, visitors from around the world have come to the resort town to indulge in massage and hydrotherapy treatments. Today, touch therapy practitioners have brought the world to Glenwood Springs again, this time through unique services, innovative products and time-tested techniques.
"We are fortunate to have such a diverse spa community in Glenwood Springs. Many visitors incorporate spa treatments into their vacations and find that it is one of the highlights of their visit here," said Kate Collins, Vice President of Tourism Marketing for the Glenwood Springs Chamber Resort Association. "Many veteran spa-goers find our prices refreshing—for both the treatments available here and the diversity of reasonably priced lodging."
With its natural hot springs at the epicenter of town, Glenwood Springs is a natural setting for a thriving spa community. Two local spas in particular take advantage of the abundant mineral assets. The Spa of the Rockies, located in the majestic old stone bathhouse building at the Glenwood Hot Springs, offers a full menu of spa services that incorporate mineral or organic ingredients, many of which are for sale in its boutique. One of the spa's most unique treatments is the Vichy shower. The Vichy shower is a form of hydrotherapy that originated in Vichy, France and has evolved to use a specialized 7-headed shower wand that is suspended overhead allowing guests to have a shower lying down! The Vichy shower can be booked on its own, but is usually used in conjunction with other treatments like the Spirit Purification Ritual or the Grapeseed Body Revitalizer.
Also using the natural abundance of the hot mineral springs is the Yampah Spa & Vapor Caves. Underground caverns with modern amenities like lights, marble benches and water spigots for a refreshing splash, the Yampah Spa & Vapor Caves is a Glenwood Springs classic. Long before the valley was settled, the Ute Indians were known to have used the caves for purification rituals. In addition to the unique vapor cave experience, visitors can also try one of the spa's most indulgent offerings: the Chocolate Bliss Wrap. Chocolate is rejuvenating and moisturizing while the caffeine component acts as a stimulant for the circulatory system and firms the skin.
Another spa located in an historic building is La Provence Spa & Fitness, in the venerable Hotel Colorado. The specialty here is Asian influenced Ashiatsu Oriental Bar Therapy, also known as barefoot massage. This type of massage has been performed by Buddhist monks for centuries and is now available in Glenwood Springs. Therapists use an overhead bar for balance and to manage the pressure of the massage. Ashiatsu is known as a luxurious massage that helps improve posture and relieve stress while providing a gentle yet deep massage. For a truly unique experience try La Provence's Esoteric Package that starts with a tarot reading and is followed by a chakra cleansing, reflexology, guided imagery, a Balinese boreh treatment, plus meditation and a steam bath cleansing.
Spa-goers who want to jump in with both feet will want to consider visiting Splendor Mountain Spa for a Watsu massage. An aquatic form of shiatsu, Watsu is performed in a chest-deep warm water pool. Guests are able to relax in a gravity-free environment while a therapist continually supports the head. The body is stretched and massaged through rhythmic, dance-like movements that open the spine and joints gently. Splendor Mountain Spa also offers Water Dance massage which incorporates submersion techniques and even more dynamic body stretching and movement.
From the European spa heritage comes the Hungarian Mud Treatment available at A Sanctuary Spa. In Hungary, organic mud is used for the treatment of chronic and deep muscle pain. It is also known to aid blood circulation, detoxify the skin and possess anti-aging properties. This is a classic spa treatment that has been popular since the time of the Romans.
Experiencing a bit of the unusual is surprisingly easy when it comes to spa treatments. In ninety minutes, more or less, Glenwood Springs' spa visitors can be transported on a one-of-a-kind journey that incorporates the knowledge and traditions developed by cultures around the globe.
For more information about any of these spas, please visit http://www.visitglenwood.com/spa-packages
About Glenwood Springs
Glenwood Springs is located between Aspen and Vail, 165 miles west of Denver or 90 miles east of Grand Junction on Interstate 70 off exit 116. For more information about Glenwood Springs, Colorado, call 970-945-6589 or go to http://www.visitglenwood.com/. For lodging reservations, call 888 4 GLENWOOD (888-445-3696). A complete press kit and press releases are available at http://www.visitglenwood.com/press-kit and http://www.visitglenwood.com/press-releases. Access to downloadable photos is available at http://www.visitglenwood.com/photos.
Media Contacts:
Kate Collins, Vice President of Tourism Marketing
Glenwood Springs Chamber Resort Association
970-945-6589 ext. 105
kate (at) glenwoodchamber (dot) com
or
Vicky Nash, Public Relations Representative
Resort Trends, Inc. – Tourism & Resort Communications
970-948-4923
Vicky (at) resorttrends (dot) com
###