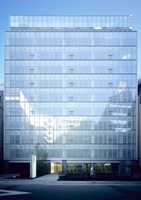 Tokyo Office Space; Compact, Reasonably Priced, Flexible Terms, BUREX Kojimachi
Lanham, MD (PRWEB) September 17, 2009
Space Design Inc, operator of 17 fully furnished/serviced apartment buildings in Tokyo and Yokohama, presents its BUREX Serviced Office buildings. Firms that want to reduce an excessive office size without sacrificing key location or prestige, will find the artistic touch and perfect locations of these buildings beyond expectation. Companies wanting to set up a Japan branch office or get closer to their Japanese clients with a local presence find BUREX the perfect answer. BUREX shatters much of the old-school Tokyo office status quo with lease space that starts from 10 Tsubo (about 355 sq. ft.), independent AC/heating and lighting units, OA floors, high tech infrastructure, reception service, rental meeting rooms, cleaning service and best of all, 24/7 access year-round. With locations in Kyobashi, Toranomon and Kojimachi, these offices are in established and well-respected areas of Tokyo. Space Design keeps leases simple (one or two year leases), initial cost requirements down, makes sure pricing is clear and constant throughout the lease without various add-on fees, and can attend to clients in English, Spanish, Chinese, Korean, etc.
"We have noticed a great increase in interest from China and Hong Kong. We hope that our office space can meet the needs of newly opened firms who are testing the market waters in Japan as well as for established firms who may be looking to slim down and re-assess their strategy here", states Ruth Shiraishi who leads the multi-national business development team at Space Design. "I am proud to say our office solutions are probably the most flexible and fair in the current market and I hope we will have the chance to offer our best proposal to firms looking forward to growth and success in Japan".
Space Design also published a YouTube video titled "Tokyo Office Space; Compact, Reasonably Priced, Flexible Terms, BUREX Kojimachi" as many clients are pressed for time and are unable to visit all the prospective office locations in Tokyo. "We hope that people will take a look at this video for an idea of what our buildings are like, the friendly welcome they can expect and the high quality of our service", states Ruth. Firms interested in the Japanese market would benefit from taking a closer look at the opportunities provided by Space Design in terms of serviced apartment and serviced office solutions in Tokyo.
For more information, contact
Space Design Inc.
Nippon Press Center Building, 2F
2-2-1 Uchisaiwaicho, Chiyoda-ku Tokyo 100-0011
Tel: 81-(0)3-3502-7777, FAX: 81-(0)3-3502-7235
URL: http://www.space-d.co.jp
Media contact:
Ruth Shiraishi, Director of Business Development
Shiraishi-r(at)space-d.co.jp 81-(0)3-3502-7234
Ruth is a 20+ year resident of Japan and leads an international team in Tokyo and Yokohama to assist international and domestic travelers with their accommodation and office requirements. Space Design Inc., follows a 4F policy of fast, flexible, friendly and fair service to their guests from Japan and around the world.
About Space Design Inc.
Space Design Inc., is a real estate developer that manages 17 fully furnished and serviced apartment buildings across Tokyo and in Yokohama. Space Design Inc. also operates serviced office buildings under the BUREX brand as well as a brand new Residential Hotel, called B-CONTE Ariake.
With some 1400 perfectly appointed studio and one bedroom apartments, Space Design is the preferred choice for business travelers on extended stay in Tokyo or Yokohama.
Ruth gives a friendly introduction Space Design's perfectly appointed office building, BUREX Kojimachi: http://www.youtube.com/watch?v=FC_1UbzP8vo&feature=related
###