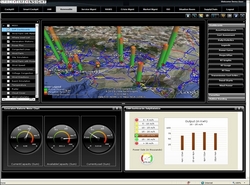 We believe inclusion in Gartner's Cool Vendor report is important recognition of our contribution to operational effectiveness, improved reliability, reduced risk, and increased sustainability
Fremont, CA (Vocus) April 15, 2010
Space-Time Insight, a leading provider of geospatial visual analytics linked to real-time operations, today announced it has been included as a 'Cool Vendor' in the 'Cool Vendors in Energy & Utilities, 2010' report by Gartner, Inc.
In the report, Gartner Vice President and Fellow Kristian Steenstrup writes that 'the energy and utility market sector is leveraging technology to improve operational efficiency while addressing energy sustainability issues' and that 'utility organizations need to concatenate multiple sources of information to create the situational awareness that is required to deal with a host of increasingly complex decision-making processes.'
Space-Time Insight's software integrates real-time data from devices and sensors with enterprise data and web feeds for high performance correlation, analysis & visualization. The resulting situational intelligence enables more informed business decisions and timely prevention or mitigation of operational concerns directly from a satellite view of the location of an event.
Steenstrup writes next, 'by taking this a step further and focusing on the essential needs of utilities (such as a geospatial relationship between events and assets, and tying observations and triggers to awareness tools and remediation tools), a more complete cycle from detection to decision to action can be delivered.' He added 'however, this is just a starting point, so a vertically focused composite framework and application can give much more immediate returns on investment.'
For the Energy & Utilities industry, Space-Time Insight offers several geospatial analytics composite applications. These include the Space-Time Asset Composite, as well as Space-Time Insight's Renewables Integration Composite, Crisis Composite, Field Service Composite, Demand Response Composite, Dynamic Pricing Composite, and Energy Market Composite. Space-Time Insight has also simplified and automated ARRA and SGIG reporting for stimulus grant awardees.
"We believe inclusion in Gartner's Cool Vendor report is important recognition of our contribution to operational effectiveness, improved reliability, reduced risk, and increased sustainability," said Mark L. Feldman, PhD and CEO, Space-Time Insight. 'We continue to innovate and deepen our relationships with key partners, so we can drive more value for our customers.'
About Space-Time Insight
Space-Time Insight's Space-Time Awareness Server and composite applications correlate, analyze, and geospatially visualize multi-source streaming sensor, enterprise, and web feed data, delivering real-time, geospatial-temporal analytics intuitively displayed on interactive satellite imagery for informed decisions and fast action.
The Space-Time Awareness Server offers geospatial solutions for critical infrastructure sectors, ranging from energy & utilities to oil & gas, transportation, pharmaceuticals and telecommunications. These applications include asset, crisis and field service composites, as well as Smart Grid composites that incorporate demand response, dynamic pricing and renewables integration. Automated ARRA reporting simplifies compliance for stimulus grantees.
Customers include San Diego Gas & Electric, Florida Power & Light, California ISO, and Entergy. Space-Time Insight is headquartered in Fremont, California. The company has regional headquarters in Hong Kong and India.
More information about Space-Time Insight is available at http://www.spacetimeinsight.com.
About Gartner's Cool Vendors Selection Process
Gartner's listing does not constitute an exhaustive list of vendors in any given technology area, but rather is designed to highlight interesting, new and innovative vendors, products and services. Gartner disclaims all warranties, expressed or implied, with respect to this research, including any warranties of merchantability or fitness of a particular purpose.
Gartner defines a cool vendor as a company that offers technologies or solutions that are: Innovative, enable users to do things they couldn't do before; Impactful, have, or will have, business impact (not just technology for the sake of technology); Intriguing, have caught Gartner's interest or curiosity in approximately the past six months.
The Gartner Report described herein, the 'Cool Vendors in Energy & Utilities, 2010' report, published March 31, 2010 and co-authored by Gartner Vice President and Fellow Kristian Steenstrup, represents data, research opinion or viewpoints published, as part of a syndicated subscription service, by Gartner, Inc. ('Gartner'), and are not representations of fact. Each Gartner Report speaks as of its original publication date, and the opinions expressed in the Gartner Reports are subject to change without notice.
For more information, please contact:
Margot (Siek) Rudell
Director of Marketing
Space-Time Insight
510.897.6763
# # #