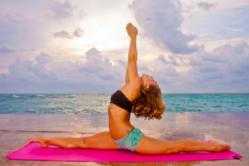 Women no longer have a need to hide their bodies. Instead, they enjoy showing off well-toned muscles in a variety of fashionable yoga and fitness outfits.
Miami Beach, FL (PRWEB) August 02, 2012
There is no doubt that both Deepfold Shorts and Kino Shorts are the bestsellers in Spacecat Yoga Fitness Wear. Sold all over the U.S., they are rapidly gaining popularity in Canada, England, Finland, Taiwan, Hong Kong, Japan, and Southeast Asia as well.
It has been a few months since the introduction of Spacecat's Spring/Summer 2012 collection, which included the Double-Cross Top, Side-Tie Capri, Ruffle Tights, and Cotton T-shirts and Tanks. After the bestselling shorts collections came the Double-Strap Bra, soft and super comfortable with a moisture-wicking, fast-drying cooling material called Coolmax, combined with Spacecat's wonderfully soft cotton-like Supplex. This combination of high-tech materials keeps women dry and cool during hot and sweaty exercise. The next bestseller is the "Spacecat Loves You" T-shirt, a no brainer since this ultra-soft 100% cotton shirt has an eye-catching, adorable peek-a-boo trademarked Spacecat design on the lower back and a mesmerizing red heart-shaped cat smiling at everyone.
Exercise and yoga in particular benefit people not only with healthy, toned bodies but also with calmer and sharper minds, helping to think straight and make decisions faster. These benefits are raising women's confidence levels and giving a niche-targeted Yoga Fitness Wear Company like Spacecat a chance to provide fashionable fitness outfits.
Several decades ago, sweat suits were very popular. Baggy and comfortable, they were designed to keep the athlete's body warm before and after working out. But for most people, they hid the body from top to bottom and were heavenly cover-ups.
The health boom of the last few decades has encouraged women around the world to become more conscious, make better dietary choices, live more moderate lifestyles, and exercise regularly. Such healthy living is making women stronger and giving them a more positive self-image. With better-toned bodies, women are losing those baggy sweatpants and T-shirts and turning to more fitted clothing, such as shorts and sports bras, which benefits one's performance by preventing overheating. Women no longer have a need to hide their bodies. Instead, they enjoy showing off well-toned muscles in a variety of fashionable yoga and fitness outfits.
About Spacecat:
The inspiration for Spacecat began in New York City in 2000, when Yumi Miyanishi made a Claymation short film called "Katzilla." After Yumi started practicing Ashtanga Yoga, she noticed what women were wearing. Seeing the same plain yoga and fitness wear everywhere, she thought there must be other women like her who would like to dress differently to practice yoga or work out. With the encouragement and help of many friends, Yumi decided to use her background in fashion design to create yoga fitness wear that she would love to wear and share with her friends.
Spacecat Inc. was launched in June 2010 in Miami Beach, Florida.
Spacecat is an animal lover and working toward greener world.