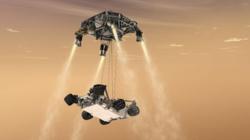 Landing of NASA'S Curiosity Rover On Mars Marks the Beginning of a New Era in Space Exploration
Orlando, FL (PRWEB) August 08, 2012
Stocktrek Images has created an online display of Mars photographs and futuristic Mars mission images in response to the overwhelming interest in the successful landing of NASA's Curiosity rover. The company will offer a wide array of stunning Mars photographs and illustrations that are now available to the public. The images consist of both past missions as well as imagined future missions to the red planet.
Ryan Rossotto, Stocktrek Images president, stated that, "Everyone at Stocktrek has a great deal of interest in the NASA Curiosity rover. The successful landing of the rover after its 352 million mile flight is a wonderful testament to the hundreds upon hundreds of hours the engineers and scientists at NASA have put into this endeavor. Stocktrek Images is delighted to put together a collection to both honor this feat as well as showcase the possibilities and concepts in future space travel and exploration."
Both the scientific community and general public at large have watched the NASA Curiosity rover for the past year with a great deal of anticipation. The rover will be used to study the geological composition of the Red Planet and attempt to unravel some of the mysteries that have yet to be solved. It is also considered the first step towards manned missions to Mars.
While manned missions to Mars may be a number of years off in the future, Rossotto says that, "It is exciting to explore the possible future that space travel and mankind has in store when it comes to space exploration. The Curiosity rover is truly a glimpse into the future and gives everyone a renewed interest in space exploration. Deep space habitation will soon be a reality through the use of advanced spacecraft and spacesuits." Rossotto went on to explain that space exploration and manned Mars missions will be made possible by innovations such as the Orion Crew Module.
Stocktrek Images offers photographs and illustrations of Mars to the public as royalty free and rights managed licensing. The images may be accessed directly from Stocktrek's homepage and browsed in the Mars Gallery. In addition, customers may order framed art prints of any picture at its website. Anyone interested in Mars exploration is invited to visit http://www.StocktrekImages.com to peruse its various offerings.
About the Company: Stocktrek Images is a stock photography agency specializing in imagery of military forces, space exploration, dinosaurs, volcanic activity and underwater photography. In addition to licensing royalty free and rights managed stock photos and illustrations, Stocktrek also provides customers with the capability to purchase any image as a print or poster. It offers many different types of wall décor, from wall murals to basic prints with custom framing.
While Stocktrek is primarily known for its space and military content, it continues to expand its various product offerings. Stocktrek represents the talented work of photographers and artists worldwide, with over 20,000 images in its online library, and thousands more in-house. Stocktrek is an independent, privately owned business entity.