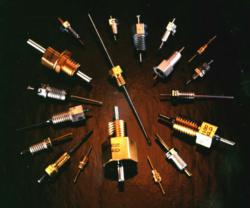 Class H testing is a faster, more cost-effective alternative to Class S EMI filter testing
Wenatchee, WA (PRWEB) November 03, 2011
EMI engineers designing components for satellite and other space applications now have an alternative to expensive and time-consuming Class S level testing, following the announcement of SOURIAU PA&E's new Class H EMI filter testing requirements.
This new 'hybrid' approach adds most of traditional Class S tests to SOURIAU PA&E's standard Class B testing process. The primary difference between Class S and the new Class H testing is the number of component failures allowed per lot. Under strict Class S, a single component failure will cause an entire lot to be scrapped. With Class H testing, this restriction is loosened slightly to allow for no more than one failure per lot. This slight variation in the process eliminates scrapping entire lots of serviceable and tested parts because of a single failure and, consequently, increases yields and decreases price while still providing highly-reliable and rugged EMI filters.
SOURIAU PA&E Class H EMI filters are inspected in accordance with MIL-PRF 28861 and must pass nearly 20 different tests that may include: temperature rise, thermal shock, vibration, current overload, corrosion (salt spray), terminal strength and destructive physical analysis. Hermetically sealed Class H filters are tested to 1x10-7 HE at one atmospheric pressure.
SOURIAU PA&E manufactures a number of EMI filter styles and sizes including micro & mini filters; eyelets, filter pins, as well as bolt and broadband filters. The company also manufactures custom caparrays, custom filter assemblies.
For more information about SOURIAU PA&E's EMI filter solutions, or to learn more about the company's hermetic connector, integrated electronic packaging and explosive bonded metal capabilities, contact SOURIAU PA&E at 509-664-8000 or visit us at pacaero.com.
###