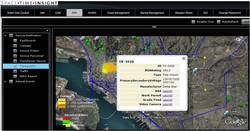 We are delighted that Capgemini selected Space-Time Insight for the RApid INnovation Partner of the Year award
Fremont, CA (Vocus) September 15, 2009
Space Time Insight today announced it was named as Capgemini's RAIN (Rapid Innovation) partner of the year for 2009.
Space-Time Insight's geospatial composite applications help enable enterprises to integrate and correlate data and functionality from multiple sources to display real-time, context, condition and location-based analytics on satellite images and sophisticated dashboards, enabling fast, informed, action from a single, integrated geospatial screen.
Short for Rapid Innovation, RAIN is a physical and virtual environment dedicated to transforming organizations into Service-Oriented Enterprises (SOEs). RAIN leads companies to discover, develop and deliver sustainable new business models 40 percent faster than traditional methods.
Space-Time Insight began work with the Capgemini RAIN team in 2007 and quickly delivered geospatial composite prototypes for Capgemini customers participating in the RAIN (RApid INnnovation program), as shown in this video: http://www.capgemini.com/resources/videos/building-a-bridge-with-rain-for-skf/
"We are delighted that Capgemini selected Space-Time Insight for the RApid INnovation Partner of the Year award," said Mark L. Feldman, Phd, CEO at Space-Time Insight. "The RAIN clients can enjoy quick return on investment from Capgemini's deployment of our advanced geospatial platform and precise configuration of the solution to advance business processes, create competitive advantage and blend natively with the corporate IT landscape. This software which was purpose-built for companies that operate in critical infrastructure sectors, achieves its greatest value in the hands of domain experts from firms like Capgemini."
Space-Time Insight customers may realize the following benefits: accelerated ability to increase revenue and improved reliability, reduced operations and maintenance costs, improved customer service and the ability to prevent or proactively mitigate crisis situations. Space-Time Insight software can be effectively leveraged for energy utilities (transmission, distribution, and generation) and water and natural gas utilities; railroads, chemicals, and oil & gas; as well as manufacturing and inventory intensive industries. Links to the most current Space-Time Insight recorded product demonstrations are available from the home page and in the Resources section of http://www.spacetimeinsight.com.
Space-Time Insight's geospatial composite applications automatically integrate features and data from geographic information systems (GIS), real-time weather, environmental and equipment sensor data feeds, and data from enterprise systems to deliver situational awareness -- comprehensive, context-, location-, and condition-based visual analytics on 3D satellite images -- for fast, informed decision-making, supported by geo-links that launch multiple processes for fast mitigation and remediation directly from the same screen, automated compliance reporting; and full-context replay for informed forensics, audit, planning and problem solving.
About Space-Time Insight:
Space-Time Insight products deliver intuitive, geospatial-temporal visualizations, contextual real-time analytics, condition-based alerts, remedial action schemes, and workflow links that enable accelerated, geo-aware responses – from a single screen. The Space-Time Awareness Suite aggregates and correlates data and functionality from multiple sources including streaming data from environmental and equipment sensors and real-time weather feeds, as well as data from enterprise systems. Visual analytics are displayed on satellite images to deliver full context, actionable information with links to background work processes for timely action, audit trails and regulatory compliance. Space-Time Insight products additionally provide simulation capabilities for what-if scenarios and full-context historical playback for audit, forensics, problem-solving and planning. Space-Time Insight is headquartered in Fremont, California and has sales offices throughout the United States. The company has regional headquarters in Hong Kong and India and a sales office in South Korea. For more information, visit http://www.spacetimeinsight.com.
Contact:
Margot Siek, Director of Marketing
Space-Time Insight
510.897.6763
http://www.spacetimeinsight.com
###