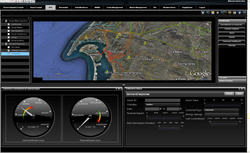 Fremont, Calif. (Vocus) December 2, 2009
Space-Time Insight™ today announced the release of its Demand Response Composite, the first Smart Grid solution to support visual balancing of consumption and supply conditions. One of Space-Time Insight's smart grid solution offerings, the Space-Time Demand Response Composite correlates streaming data with enterprise data to deliver rich geospatial analytics and enable fast, informed decisions directly from a satellite view of the grid and surrounding urban / suburban terrain.
Electric utilities are increasingly challenged to manage consumer consumption in response to ever changing supply conditions. "Space Time Insight's Demand Response Composite captures and correlates the real-time operations data with asset and customer data to support informed projection and simulation of available demand response scenarios for fast reaction to changing supply conditions – now," said Mark L. Feldman, Ph.D., CEO of Space-Time Insight, ''whether supply constraints are caused by transmission congestion, unexpected load increases or critical component failures.''
''The Space-Time Demand Response Composite was designed based on input from our utility customers,'' said Krishna Kumar, CTO. ''They were very specific about features like configurable dashboards that alert the utility company of the need for emergency demand response. Integration with ISOs or demand aggregators for consolidated demand drop requests and integration with customer relationship systems for visualization of demand response contracts were high priorities. They wanted selection filters for demand response customers, as well as visualization of load shave potential, price-demand elasticity and even the demand curve as a function of renewable generation.''
''While there was clear consensus on ensuring better, faster understanding of emergency conditions,'' said Feldman, ''targeted demand response for energy efficiency improvements without sacrificing service level agreements and price-elasticity modeling for optimal revenue to energy efficiency demonstrated strong forward-looking intentions by the utilities.''
Space-Time Insight has been selected as a finalist for the Platts Global Energy Commercial Technology of the Year award for 2009. The company is recognized for how its geospatial visual analytics correlate real-time streaming data with enterprise data and enable informed response directly from a satellite image of the grid and surrounding terrain. More information about Space-Time Insight is available at http://www.spacetimeinsight.com.
About Space-Time Insight
Space-Time Insight delivers the industry's only packaged geospatial composite applications designed to rapidly enable utility operators to make confident decisions based on complete, real-time situational information visually overlaid on 3D satellite images, initiate appropriate, action from the same screen, and get maximum value from their existing IT infrastructure. Geospatial composites from Space-Time Insight provide a single, intelligent interface with correlation and analytics of data from multiple data sources overlaid on 3D satellite images for confident decision-making and action taking. Space-Time Insight was founded in 2004, as Enterprise Horizons, a business intelligence consultancy. The software developed during that period was integrated into a stable, off-the-shelf, real-time, geospatial platform and a set of composite application solutions released in February 2009 for sale to electric utilities. Space-Time Insight customers include San Diego Gas & Electric, California ISO, Entergy, and Florida Power & Light.
Contact:
Margot Rudell
Director of Marketing
Space-Time Insight
510.897.6763
###