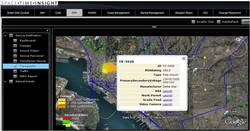 Powered by SAP NetWeaver®
Fremont, CA (Vocus) September 9, 2009
Space Time Insight today announced its Space-Time Awareness Server (STAS), version 3, has achieved SAP certification as "Powered by SAP NetWeaver®". Space-Time Insight's geospatial composite applications deliver comprehensive, context-, location-, and condition-based visual analytics on 3D satellite images for fast, informed decision-making with real-time situational awareness; geo-links that launch multiple processes for fast mitigation and remediation directly from the same screen. Automated compliance reporting simplifies adherence to regulatory guidelines, while full-context replay supports informed forensics, audit, planning and problem solving.
The SAP Integration and Certification Center has certified that Space-Time Insight's STAS 3.0 successfully integrates with business functions exposed through the SAP NetWeaver Portal 6.0 component of the SAP NetWeaver technology platform by creating portal content via a business package.
"We are delighted to announce the certification of Space-Time Insight's STAS as powered by SAP NetWeaver," said Mark L. Feldman, Phd, CEO at Space-Time Insight. "Space-Time Insight's STAS helps executives and operations professionals get even more value out of their SAP applications, while leveraging all their existing investments in information and operational technology. These are the industry's only true, purpose-built geospatial composite applications for utilities and critical infrastructure organizations."
Powered by SAP NetWeaver, Space-Time Insight has advanced interoperability for this growing category of packaged, geospatial, situational awareness and remediation composites. More information about Space-Time Insight is available at http://www.spacetimeinsight.com.
About Space-Time Insight
Space-Time Insight products deliver intuitive, geospatial-temporal visualizations, contextual real-time analytics, condition-based alerts, remedial action schemes,and workflow links that enable accelerated, geo-aware responses – from a single screen. The Space-Time Awareness Suite aggregates and correlates data and functionality from multiple sources including streaming data from environmental and equipment sensors and real-time weather feeds, as well as data from enterprise systems. Visual analytics are displayed on satellite images to deliver full context, actionable information with links to background work processes for timely action, audit trails and regulatory compliance. Space-Time Insight products additionally provide simulation capabilities for what-if scenarios and full-context historical playback for audit, forensics, problem-solving and planning. Space-Time Insight software was designed primarily for customers in the energy utilities (transmission, distribution, and generation), water and natural gas utilities, railroad, chemicals, and oil & gas industries. Space-Time Insight is headquartered in Fremont, California and has sales offices throughout the United States. The company has regional headquarters in Hong Kong and India and a sales office in South Korea. For more information, visit http://www.spacetimeinsight.com.
SAP, SAP NetWeaver and all SAP logos are trademarks or registered trademarks of SAP AG in Germany and in several other countries. All other product and service names mentioned herein are the trademarks of their respective owners.
For more information, please contact:
Margot (Siek) Rudell
Director of Marketing
Space-Time Insight
510.897.6763
margot.siek(at)spacetimeinsight.com
###