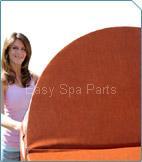 Easy Spa Parts offers the best in terms of quality, price and service for hot tub replacement covers
San Diego, CA (PRWEB) January 15, 2013
Easy Spa Parts, an online retailer selling replacement spa parts for Dimension One Spas has recently introduced an online ordering system for consumers looking for HotSpring hot tub cover replacements. Even though the company sells Dimension One Hot Tub Parts, it also sells spa covers for all brands. "The interactive hot tub and spa cover buying system will make the spa cover replacement buying process faster and easier for all brands od spas including HotSpring," said Phil Sandner, President of Easy Spa Parts located in San Diego, CA.
"Harsh outdoor conditions combined with continued exposure to harmful effects of the sun will eventually create the need for hot tub and spa covers to be replaced," continued Sandner. But many hot tub and spa owners delay this purchase due to the complexity and cost of purchasing a new spa cover replacement. "Easy Spa Parts has always offered the best in terms of quality, price and service, but felt it was time to expand our offering to include more hot tub companies. So we made the investment of time and resources to bring our customers what we know feel is the best online ordering system for hot tub cover replacements."
"Easy Spa Parts is an online distributor of Sunstar Spa Covers. Sunstar, a manufacturer known for quality for over 30 years provides both high quality and affordability in one cover. Sunstar also meets the ASTM safety standard for pool and spa and hot tub covers, and has been independently tested and UL Certified," continued Sandner.
According to Sandner, Hot Spring hot tub owners looking for a spa cover replacement can now visit the Easy Spa Parts website and select their cover in 4 simplified steps, just by entering their dimensions and color choices. In addition, buyers are also able to add options and upgrades if they so desire. Customers can now purchase replacement spa covers, 24/7 using the new "point and click" system."
Consumers wanting to learn more or get an instant online price for a new hot tub or spa cover are encouraged to visit the company website for more information. The website address is http://www.EasySpaParts.com
About Easy Spa Parts
Easy Spa Parts is a full service hot tub parts and accessories specializing in Dimension One Spas.
ESP has a knowledgeable staff that has 60+ years of combined experience, and can easily help you troubleshoot and repair most spa related issues. With trusted expertise, Easy Spa Parts is just a phone call away. They've built their business and reputation on providing solutions, one spa at a time.
How are they different? They're not just spa parts experts. Easy Spa Parts understands the importance of providing exceptional customer service. In addition to a live customer service team available 6 days a week, Easy Spa Parts also provides informative videos, step-by-step tutorials and printable maintenance tips available 24 hours a day, 7 days a week.
The team at Easy Spa Parts continually works to exceed their client's highest expectations - even in the face of the most challenging conditions. It's that dedication and attention to detail that keeps them a cut above the rest. From the entire team at Easy Spa Parts - here's to another enjoyable day in the spa!
To learn more, pick up a copy of our free report "Clean Water Made Easy - How to Keep Your Spa Water Crystal Clear." Just give us a call at 866-418-1840 or go to http://www.EasySpaParts.com