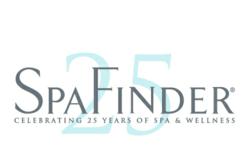 SpaFinder has spent the last 25 years inspiring millions of people throughout the world to embrace the spa lifestyle
New York, NY (PRWEB) October 19, 2011
SpaFinder.com is marking its 25th Anniversary this month with unprecedented spa deals, luxury getaway sweepstakes and a sweeping online retrospective exploring the evolution of the spa and wellness lifestyle and the pioneering company behind it.
SpaFinder was founded in 1986 as the first travel agency dedicated solely to the emerging trend of spa getaways. Over the past 25 years, the company helped bring spas and the benefits of the wellness lifestyle into the mainstream, playing a key role in creating a spa industry that is now a $60+ billion global market.*
The company's many milestones include establishing the first universal spa gift certificate program, which offers gift certificates redeemable at more than 9,000 spas, yoga, Pilates and fitness studios, wellness practitioners and salons worldwide, as well as the first spa app for smartphones. According to a recent Coyle Hospitality Report (May 2011), more consumers turn to SpaFinder.com for spa and wellness information than Google.**
"I am proud to say that no company has had the impact and the staying power of SpaFinder, which is a tribute to our dedicated staff and its concern for both the customers that come to us for spa and wellness experiences and the businesses we represent," said SpaFinder CEO Pete Ellis.
"SpaFinder has spent the last 25 years inspiring millions of people throughout the world to embrace the spa lifestyle," said SpaFinder President Susie Ellis. "It is thrilling to look back and see what a positive impact the company has had on both the industry and people's lives."
Highlights of SpaFinder's 25th Anniversary celebration include:

*2010 Stanford Research Institute (SRI), Spas & the Global Wellness Market: Synergies & Opportunities
** Coyle Hospitality Report, May 2011. According to comScore research (March 2011) Google has an estimated 65% share of total U.S. search market. Based on Coyle findings, we can assume approximately 36% of consumers seeking spa/wellness information use Google.
About SpaFinder, Inc.
The world's largest spa media, marketing and gifting company, SpaFinder, Inc., connects millions of wellness-focused consumers with thousands of spas, yoga, Pilates and fitness studios and wellness practitioners worldwide. SpaFinder's media properties include the award-winning http://www.spafinder.com, the Club Spa e-newsletter and blog and the annual NewBeauty SpaFinder Guide to Global Spa, Wellness & Beauty. SpaFinder and its spa-beauty gift division, SpaWish, offer gift certificates and cards that are redeemable at a combined network of over 9,000 spas, yoga, Pilates and fitness studios, wellness practitioners and salons worldwide, and are available at nearly 100,000 unique retail outlets in 79 countries. SpaFinder Europe and SpaFinder Japan offer regional spa marketing and gifting programs, including localized websites. Currently celebrating its 25th Anniversary, SpaFinder is a privately held company headquartered in Manhattan.
###