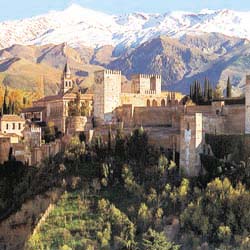 "We are excited to be able to offer this huge discount while many people are making their summer plans. In our 18 years of business, we have never had a special offer like this during our busiest time of the year," - Beth Lieberman, AmeriSpan's VP
Philadelphia, PA (PRWEB) May 25, 2011
Spain Spanish schools are one of the most popular options for people of all ages interested in learning Spanish abroad. AmeriSpan Study Abroad has announced that all group language programs of 3 weeks are longer will be discounted 20% for applications received by the end of the day, May 31, 2011 and include the discount code SPAINMD20. Participants may choose to start their program at any point during the next year.
Many educators and teachers agree that the best way to learn a language is through immersion, where the student learns much the same way as a young child learns their first language. As the participant is immersed in the culture and surrounded by both audio and visual reinforcements, they learn 24 hours/day. This helps force the subconscious to start thinking in the other language as opposed to first thinking what to say in English and then translating it. Many participants who successfully resist the temptation to fall back to English by finding local periodicals to read, non-English movies to watch and Spanish-speaking acquaintances, report that in as little as a week they start dreaming in the language they are learning.
Language immersion programs, especially Spanish schools, have opened all over the world over the past decade. Although there are a plethora of Spanish schools in Barcelona, one can find schools throughout the country. Granada Spanish schools offer the added benefit of the Alhambra but every location has its own unique attractiveness. These schools cater to people traveling abroad with the sole purpose of learning a foreign language.
What is truly surprising is the demographic breakdown of these "students". Of course, there are college students but there are also business professionals, police & fire fighters, doctors, nurses, families, retirees and increasingly teenagers. AmeriSpan reports only 28% of their 2,000 annual students are college students.
"We are excited to be able to offer this huge discount while many people are making their summer plans. In our 18 years of business, we have never had a special offer like this during our busiest time of the year," remarked Beth Lieberman, AmeriSpan's Vice-President.
The organization's co-founder, John Slocum, explains, "We have seen an increase in the number of teenaged and college student enrollments, but we noted that older participants were staying for a shorter period of time. We approached our partners in Spain about offering a special for people who stayed 3 weeks or longer and they liked the idea.
Founded in 1993, AmeriSpan Study Abroad offers more than 100 study abroad, language-learning and volunteer programs worldwide for participants of all ages and language level. The Philadelphia-based organization has long been an innovator in the study abroad field, building its reputation by offering high quality, low cost language immersion programs. In May 2011, the company was named a Finalist for the "Innovators in Social Media" award sponsored by GoAbroad.com. In September 2010, the company was awarded its 2nd consecutive 'Star Award' as the Best Agency in North America. The industry's prestigious Star Award is voted by organizations worldwide and awarded annually.
###