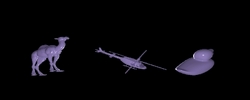 By making our turing test as simple as three clicks, we've improved our user interface while at the same time largely decreased the possibility of spam
Riverside, CA (PRWEB) March 25, 2009
Modern websites are plagued with a dilemma - how to prevent computer scripts from mass-messaging users or mass-creating accounts while keeping the interface easy for users. This is usually done with a turing test, a task which is easy for the human mind to process but which computers have difficulty with.
These turing tests, more commonly known as a CAPTCHA (Completely Automated Public Turing test to tell Computers and Humans Apart) are commonplace on the web. The most common of these CAPTCHAs, which we are all familiar with, are badly mutated alphanumeric characters with squiggly lines.
These mutated characters have a major problem - OCR (Optical Character Recognition), the technology used to make out characters from an image, is an old and reliable technology. In retaliation, web site developers have made it more difficult for a computer program to make out the characters - in turn also making it more difficult for us to make them out.
YUNiTi has launched a new kind of CAPTCHA that uses the human mind's ability to recognize three-dimensional objects instead of alphanumeric characters. Three objects are rotated at random angles, and the user has to match the three objects to a palette of possible objects.
"Every time I'd see a new CAPTCHA that's even more difficult to read than the last one, I'd think 'There has to be another way!'" says Mateus Boyington, co-founder of YUNiTi.com. "It came to me that as far as human recognition goes, alphanumeric characters aren't our strength - objects in 3-space are."
"By making our turing test as simple as three clicks, we've improved our user interface while at the same time largely decreased the possibility of spam," says Boyington.
About YUNiTi:
YUNiTi.com, a social networking site launched in November 2006, aims to be intuitive, friendly, and safe. It was started by Marcos Boyington and Mateus Boyington, with no external funding of any kind. YUNiTi's goal is constantly innovate, setting the curve for all social networking sites. YUNiTi is a privately held partnership headquartered in Riverside, Calif., and can be contacted at yuniti.com/contact.php.
###