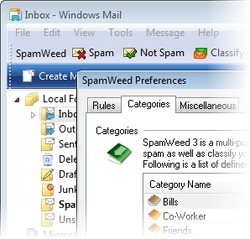 Emailing, as the killer application in the business world, is facing its midlife crisis,
Shanghai, China (PRWEB) October 22, 2008
Shuttle Technologies has just released its new SpamWeed 3 spam filter. The new SpamWeed 3 is an innovative product which not only precisely filters out spam, but also intelligently categorizes incoming messages by analyzing their contents.
"Emailing, as the killer application in the business world, is facing its midlife crisis, " said Shannon Fang, chief designer of Shuttle Technologies. Located in Shanghai, China, Shuttle has been focusing on research and development of anti-spam products since early 2003. In this age of information explosion, everybody is flooded with advertisement, unwanted digital garbages, yet everyone is also trying their best to produce more and more digital garbages in order to be heard. Today, we simply cannot rely on the law, or corporate level spam filtering gateways to rescue ourselves, because we are buried by messages which are by definition NOT spam! "Redefining SPAM is a difficult and urgent task presented to corporations as well as to anti-spam vendors. Effective email classification is the way out of this mess," added Shannon.
To save time and get more organized, business users often rely on Outlook rules to sort their mails. The problem with these rules are that they are rigid, only suitable for processing mails from fixed sources, such as mailing lists. In order to cope with new patterns constantly emerging from daily email, users have to spend more and more time adding new rules and managing their rule sets. "The more time users spend on managing rules, the less value rules are," said Shannon.
Unlike most spam filters, SpamWeed 3 does not simply recognize email as spam or non-spam. Equipped with the new fuzzy logic filtering engine, it "reads" emails, compares them to previously learned samples and intelligently classifies them into categories that contain most similar samples, like a human being. Users do not have to rely on senders' email addresses or keywords to classify email. All they need to do is to define categories and feed sample mails to SpamWeed.
John Sullivan, a long term user of the SpamWeed spam filter, shares his experiences: "I am very excited to try the new SpamWeed 3 email classifier as soon as it is released. It's amazing to see it categories all my incoming mails so intelligently and precisely. It also let me define 'priority categories' and rings a bell when important mails come in. As a customer service representative, I regularly receive over 300 email every day. With SpamWeed, my mailbox has never been so neat and well-organized. Moreover, helpdesk responsiveness is greatly increased. Customers are happy."
Studies show that average number of email business users receive reaches over 140 per day in 2008. Typically, users spend about 2 hours per day processing email, of which 25% of the time are wasted on unnecessary or low priority email. SpamWeed Email Classifier can be your indispensable time saver and productivity booster.
Click here to learn more about SpamWeed features. To try it out, please download a free copy at the download page or watch a product demo at SpamWeed demo gallery.
About Shuttle Technologies
Based in Shanghai, China, Shuttle Technologies has been providing spam filtering products since 2003. Shuttle continues to look for new technologies in text classification, information retrieval and content based access control.
Contact:
Lydia CHEN, director of marketing
sales@spamweed.com
Shuttle Technologies
+86-21-56557548
http://www.spamweed.com
# # #