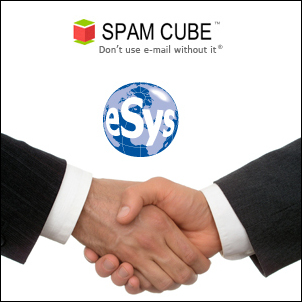 eSys believes that technology innovators or brand owners like Spam Cube should focus on their core capabilities and outsource non-core peripheral activities to get higher efficiencies
New York (PRWEB) August 29, 2006 –
Spam Cube, Inc – which created the Spam Cube™ the world's first OnDemand security hardware gadget that stops spam, viruses and phishing for home networks – has teamed up with US$ 2 Billion eSys Technologies, one of the world's fastest growing IT Companies and clearly among Top 10 Companies in Technology distribution. Their exclusive distribution deal will help move the Spam Cube beyond the borders of United States and into the hands of PC users worldwide.
"We partnered with eSys because they're a global electronics distribution powerhouse," said Marino. "We've intentionally held out on picking an exclusive distribution partner for Spam Cube. Our business development team had multiple offers on the table from other distributors, but we weren't satisfied with their value propositions. eSys won our business because they're giving us more than sales and logistics support – they're giving us the attention we need to bring the Spam Cube to the entire world quicker."
And the quicker the better. Spammers around the world are growing in sophistication everyday, with companies losing nearly $20 billion annually in productivity and costs associated with combating spam, according to a recent report in the Toronto Globe and Mail. Said Canadian computer science researcher John Aycock: "It's very much an arms race between the good guys and the bad guys."
Spam Cube is leading this legion of good guys against a high-tech axis of evil. With the distributing power of eSys behind them, more customers around the world will have access to Spam Cube Inc.'s unique device that protects up to four computers in the home without a costly subscription. The Spam Cube − featured on HGTV's I Want That! Tech Toys and on the front page of the New York Times' Business Day section − eliminates spam content at the source by identifying known solicitors of spam and purging them from email inboxes. Spam Cube, which works in unison with every operating system and is priced at $150, is also the ultimate weapon against viruses and phishing emails, which are sent in an attempt to scam the user into surrendering private information.
The partnership with eSys Technologies gives Spam Cube Inc. access to a global distributor with an impeccable reputation, subsidiary operations in 38 countries and 30,000 strong Channel partners in more than 85 countries. Incorporated in 2000, eSys has revolutionized the IT distribution world by deploying a business model involving centralized back-office and shared services, while maintaining a personalized approach with every single client.
"eSys believes that technology innovators or brand owners like Spam Cube should focus on their core capabilities and outsource non-core peripheral activities to get higher efficiencies," said eSys COO Neeraj Chauhan. "eSys is offering Spam Cube a unique outsourcing proposition with a comprehensive set of services including global logistics and warehousing, transactional services, sales support, reverse logistics and online B2B & B2C operations. We look forward to working with Spam Cube and helping them achieve their business objectives in the most efficient way."
Spam Cube's cutting-edge advances go beyond stopping spam. The company offers an optional service called Security OnDemand™, which deletes email viruses from inboxes and alerts users whenever they receive a fraudulent email. For an annual rate of $52, Security OnDemand provides McAfee and Symantec Norton anti-virus and Spam Cube's anti-phishing technology.
"The Spam Cube, the world's first OnDemand security hardware gadget, is enough of a disruptor for us to enter consumer markets worldwide," said David Soares, CBDO at Spam Cube "We did a tremendous amount of research and consulting before settling on eSys and we are showing the world the power of Security OnDemand, our patented delivery platform. Since Spam Cube has always strived to be the best, we weren't going to put our distribution future into the hands of a company that wasn't first-rate."
About Spam Cube, Inc
Spam Cube, Inc is known for creating the world's first anti-spam gadget for the home called The Spam Cube. The Spam Cube is famous for protecting every day consumers who are faced with complex spam, viruses and identity fraud scams on the Internet, by simply plugging it into their home computer or home network.
Spam Cube, Inc is based in New York, NY and has 11 patents pending.
Spam Cube's Internet address is http://www.spamcube.com
About eSys Distribution, Inc
Incorporated in the year 2000, Singapore headquartered eSys Technologies is a US $2 billion Multinational with 117 offices in 38 countries. With global leadership position in the desktop Hard Disk Drive Distribution and other Technology products, eSys has successfully diversified into PC Manufacturing and Business Process & IT Services. eSys has four state of the art, automated PC manufacturing facilities in Singapore, Los Angeles, Dubai and New Delhi, which produce the world's best priced computers.
It has pioneered the concept of TBO (Total Business Off shoring / Outsourcing) in which whole businesses in multiple locations are run from low-cost, high-skilled countries. Currently eSys uses its nerve center in India and Singapore to carry this out. With more than 1000 employees across the globe and 30,000 business customers, eSys has three business verticals of Technology Distribution, PC Business and Business Process & IT Services.
eSys is among the fastest growing companies in the world across industries and clearly the fastest growing IT Distribution Company globally. eSys has won numerous awards like Best Enterprise, Best Entrepreneur (for its Chairman), etc, apart from many industry awards, which have over the years validated eSys' performance and success.
eSys's Internet address (Corporate) : is http://www.esysglobal.com
(America) : http://www.esysamericas.com
###