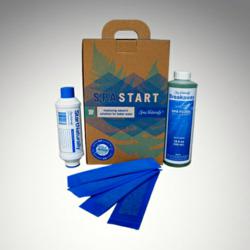 St. Paul, Minnesota (PRWEB) August 09, 2012
Calling all spa owners and users! PcPools is helping one lucky person reduce their "carbon footprint" by giving away a SpaNaturally® SpaStart Kit. This innovative, environmentally friendly solution helps reduce chemical needs, eases spa maintenance requirements, and improves water quality. What's not to love about all of that, for free?
Here's how it works: SpaNaturally® products utilize sustainably-sourced sphagnum moss to inhibit the formation of biofilm, bacteria's protective layer. Chemical efficacy dramatically increases as a result. This translates into softer, clearer water that requires less time and fewer chemicals to properly maintain. There is also a noticeable decrease in odor! Further details, including frequently asked questions and product instructions, are available here.
Valued at $89.99, the SpaStart kit includes everything needed to fully enjoy the benefits of SpaNaturally®. It comes with Breakaway™ Flush to thoroughly clean the spa, a StartNaturally filter to remove unwanted chemicals and particulates from the water used to re-fill the tub, and four SpaNaturally inserts. Inserts last approximately 30 days are designed to fit in the skimmer basket or filter bay.
Here's how to enter for a chance to win: starting August 9th, visit PcPools' SpaNaturally® SpaStart Kit Giveaway page on Facebook and follow the instructions. Please note a valid Facebook account is required to enter. Complete the entry process before 4pm CST on September 6, 2012 for a chance to win! That's it!
Although individuals are limited to submitting one entry on their own behalf, there is a way to earn multiple chances to win: a link enabling the user to refer-a-friend appears after entrants click "Submit". Those who share the link receive one additional entry each time someone else clicks on that unique link and completes the giveaway entry process.
This promotion is in no way sponsored, endorsed or administered by, or associated with, Facebook. Only residents of the United States--except for persons residing in Alaska, California, and Hawaii--are eligible to enter and win. Contestants must have a valid Facebook account to enter, and provide a complete first name, last name, and valid email address. Contest ends at 4pm CST, September 6, 2012. Winner will be notified by email by 5pm CST, September 7, 2012.
About PcPools
PcPools is one of America's leading multi-channel direct marketers of swimming pool supplies and equipment to the residential and commercial markets in the United States. Founded in 2000 by a leading executive in the pool supplies industry, it has since been dedicated to providing residential and commercial pool owners with high quality swimming pool supplies and equipment at warehouse direct prices. PcPools' product line – all of which is sold through our catalog and internet channels – includes above ground pools, automatic pool cleaners, pool liners, pool heaters, pool chemicals, pool covers, and other pool accessories. PcPools' strong relationship with leading pool supply manufacturers and distributors creates a truly unique combination of quality product at excellent value for its customers.
About SpaNaturally®
The SpaNaturally® conditioning system was created and designed by Creative Water Solutions, Inc. ("CWS"), a company based in Plymouth, MN. CWS is a leader in the pool and spa industry in developing eco-friendly solutions for commercial and residential applications. Its mission is to develop and market plant-based, ecologically sustainable, scientifically researched water conditioning products that enhance consumers' experiences and minimize environmental impact.
Note to Editors: If you are interested in viewing additional information about PcPools or Creative Water Solutions, Inc. please visit: