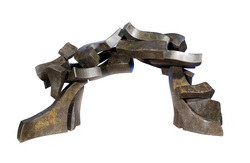 East Hampton, NY (PRWEB) September 25, 2008
Spanierman Gallery, LLC at East Hampton is pleased to announce the opening on September 25, 2008 of "East End Abstraction: Six Directions". Fostered by traditions of abstract painting on Long Island, the six artists in this exhibition seek to define personal aesthetic idioms within an abstract rubric, while drawing inspiration from their peers and historical sources.
Darlene Charneco begins with painterly surfaces on board, defines space and imagery using numerous hammered in nails, and adds additional paint and acrylic medium to her surfaces. Often her works "read" as pages or tablets, offering mysterious messages the meaning of which is hinted at while the viewer brings a personal interpretation into the equation.
Josh Dayton has integrated his early, expressive, abstract figurative works into a more simplified format. Large, overlapping shapes combine with gestural slashes of acrylic paint on a flat ground to create a sense of rhythm and tension within the picture plane, as though Matisse and Franz Kline were collaborating in the twenty-first century.
Carol Hunt relies on color and gesture to produce openly expressive paintings that find inspiration in nature, music, and world culture. Her canvas surfaces are often filled with bold strokes in dynamic interaction with intense color, usually revealing the presence of drawing moving in and out of the broad brushwork. Pastels and acrylic on paper works are sometimes presented in vignette form, as in the Daily Exorcism Series. Here, it is as though fleeting visual thoughts, experiences, and ideas were being jotted down to be analyzed for content at a later time--or taken "as is."
Fulvio Massi fills areas of canvases that are usually white by building his surfaces with a myriad of drawn, overlapping, curvilinear lines and somewhat spare areas of subtle color. It is the drawn line that dominates revealing suggestions of surrealist imagery, some more pronounced than others.
Jonathan Thomas seems to take his imagery from primitive iconography, creating sculptures that seem to stand as totemic sentinels. Presented in three or four sizes in height, with the same width and depth measurements, each is unique in design. The black acrylic on wood forms are embellished with pieces of rope and wood to give the impression of individual personages. Presented in a threesome, they could suggest a family; as a group such as a clan or village. The light painted canvas works in scroll form, with juxtaposed symbolic imagery made of wood and other materials, complement the form and mood of the works.
Hans Van de Bovenkamp works primarily in metal, usually welded bronze or aluminum. Flat planes are formed into three-dimensional curved shapes with concave and convex tops and sides. These are welded to other forms to create free-standing works, some of which serve as models for subsequent monumental outdoor pieces. His imagery is informed by cultural iconography, mythology, and philosophical concepts.
###