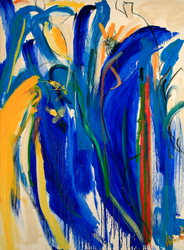 East Hampton, NY (PRWEB) April 24, 2008

Spanierman Gallery, LLC at East Hampton is pleased to announce the opening on April 24, 2008 of "Light of Spring II". Works by prominent artists long associated with Long Island, Elaine de Kooning and Jane Freilicher, are represented in the exhibition along with examples by ten East Hampton artists of many generations for whom the lucid and atmospheric light of spring on Long Island's East End has been an inspiration and a springboard for individualistic creative endeavors.
"Rock on Hill" (1965) reflects Elaine de Kooning's reactions to the combined luminosity and vivacity of nature on the East End, while the large "Foliage (Indoor and Outdoor)" (1980) brings together the still life and garden subject matter that were recurrent themes throughout her career. Jane Freilicher's contributions similarly reflect continuing strands within her art, with "Jonquils and Nasturtiums" (2006) showing flowers both in and adrift from their vessels and a ground that seems floating, with the sea glimpsed at the horizon, and "Some Trees" (2007) presenting an iconic image in which wispy and buoyant tree forms are set against a distant watery vista of pale sea and sky.
For several artists, the lush, floral aspects of the East End serve as a generative impulse and stimulus. In her oils,Mary Abbott uses nature as a "jumping off point" from which to take risks. Her sweeping and swirling organic shapes are informed by gesture, light, and color. Painting in oil on linen, Gerson Leiber uses his own garden in East Hampton as the basis for his art, as his Cubist-inspired designs are drawn from the natural forms that he manipulated purposefully for aesthetic reasons.
Many of the artists conjoin representational and abstract forms to express their personal responses to their subjects. In oils and acrylics, Priscilla Bowden continues the dedication she has had for over forty years to preserving on canvas aspects of the East End landscape now radically altered by the effects of development. Using tone and suggestion, she simplifies nature to emphasize the spirit of the place, while naming her works with specific titles so as to confirm her focus on particular sites. Cornelia Foss, who was born in Berlin, is represented in the exhibition by spare landscapes in which the sky is dominant. Among her works is a view of Wainscott Pond, a favorite subject for her for many years, in which a tiny vehicle directs the eye to the subtly rendered horizon, intensifying the pale, pinkish light and the vastness of the space. Deborah Black uses an expressionist approach, in which strong brushwork conveys movement and the passage of light and air through the East End's bluffs and glades. Robert Dash's two acrylics from his Sagg Main series are variations within his thematic study of a street in his hometown of Sagaponack, New York. The semi-abstract vignettes are placed against a white ground in order to emphasize the contours of natural forms. While painting seemingly representational works, Clifford Smith brings to his art a personal idiom, using impressionist, sometimes abstracted strokes to otherwise well-defined forms, as a way of exploring not only a subject, but also the viewer's perception.
Surface and feeling are the emphasis in the works of Cynthia Knott and Shari Abramson. In two large paintings in the show, "Circe" (2006) and "Evermore" (2006), Knott combines oil, metallic paint, and encaustic to convey the luminous effect of a fleeting light that is always in transition. A crucial element in her work is the placement of the horizon, which determines how the energy of the light relates to the psychological or spiritual effect of the changing environment. In Abramson's oils, shapes informed by nature and light glide through translucent fields of color and line, evoking qualities of depth, atmosphere, and reflection. Also mystical in attitude are the oils of María Schön, in which biomorphic, voluptuous forms rendered with saturated color evoke the fertile valleys, turquoise waters, and mountains of the artist's native Venezuela.
While each work in the exhibition is distinct, echoes and parallels exist among them as the East Hampton artists contemplate and contend with the experience of the East End, and especially with its unique light at this transitional time of year.
###