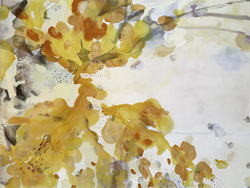 search for depth and lightness
New York, NY (PRWEB) May 7, 2008
Spanierman Modern is pleased to announce the opening on May 8, 2008 of "Tales: New Work by Jasmina Danowski", including large-scale ink-on-paper works and smaller paintings in alkyd and oil on wood panels, honeycomb fiberglass, and canvas. In her second exhibition at Spanierman Modern, Danowski continues to show multi-layered gestural abstractions in which sensuous natural and biomorphic forms are suggested, while her chosen formats have spurred her to "broaden the spectrum" in a "search for depth and lightness" and a way of "pushing what the medium offers."
Danowski's new works on paper are more radical in their use of color and contrast than in the past. Dense and complex, they are aqueous, cosmic, and efflorescent, evoking at once the momentary and the universal. In "Spontaneous Combustion Can Be Your Friend", expanding particles reach toward weightlessness; while in the "Lo and Behold" series, restfulness and restlessness compete in the spreading dark purples that obscure and blur into the atmospheric vapory olive greens and diaphanous lavenders.
Created with thin washes overlaying thick paint surfaces, the colors and forms in Danowski's panels are compressed and charged, drawing energy from the confinement of the small, square supports. The strength of these intense works is seen in the way they hold their own against the much larger works on paper, with the two groups "forming a field of connections and interactions."
The artist states that in the panels, it is "as if the paintings are searching to break out continuously from their own rules." Many capture a suspended moment between control and release, with forms strained to the breaking point and pressurized as if to thwart an explosive chain reaction that has already begun. An inevitable hilarity appears about to burst forth at any moment but is barely restrained. This sense of play, using broad humor and subtly curbed energy, evokes the brilliant comedic physicality of Buster Keaton, whom Danowski cites as a hero.
Danowski's process entails allowing her marks and colors to develop their own implicit potential, "the story they carry within them," and the tales they unfold are to be generated as much by the observer as by the artist.
Jasmina Danowski was born in Stuttgart, Germany and received her B.F.A. from the San Francisco Art Institute (1990), and her M.F.A. from Bard College, Annandale-on-Hudson, New York (1997). She received two Pollock-Krasner awards (2001 and 2005), and has shown her work at the Boston Center for the Arts (2000); Dumbo Arts Center Festival, Brooklyn (2003); Massachusetts College of Art, Boston (2002); Paradigm Art, Inc., New York (2006); Simon's Rock College, Great Barrington, Massachusetts (1997);and the Weatherspoon Art Museum, Greensboro, North Carolina (2006).
# # #