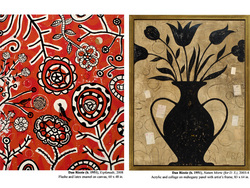 New York, NY (PRWEB) October 6, 2008
Spanierman Modern is pleased to announce the opening on October 16, 2008 of "Dan Rizzie", an exhibition and sale of this contemporary artist's recent mixed media work. Focusing on a single form or motif, in his images, Rizzie creates meticulously detailed collage-like environments in which he blends a fastidious attention to detail with a pared-down minimalist approach with which he modifies nature rather than producing pure abstractions. A catalogue accompanying the exhibition includes an essay by Robert Hughes, the art critic for Time Magazine and the author of numerous books on art, along with twelve full-page color illustrations.
Rizzie was born in Poughkeepsie, New York, in 1951. His father was a United States diplomat, and Rizzie's childhood and adolescence were spent in many locations, including India, Egypt, Jordan and Jamaica. He received his B.F.A. from Hendrix College in Conway, Arkansas, in 1973, and later completed an M.F.A. at Southern Methodist University in Dallas, Texas. He spent his formative years as a painter in Dallas, where he first achieved national acclaim and today has a large following in the arts community. Today, he resides in Sag Harbor on Long Island.
At first glance, Rizzie's work appears strikingly simple and reductive, and it is only on further examination that his extreme focus on particular forms becomes apparent. Indeed, although working in a variety of media, he experiments with different ways to build on the fundamental basis of his art: craftsmanship. He prefers streamlined forms, such as cones, circles, triangles, and, perhaps most of all, the curvilinear arabesques found in ornamental wrought iron. Antique documents, such as maps, legal papers, and sheets of music, and English botanical studies have also been a significant source of inspiration for the artist. In 1983, he broadened his vocabulary of forms to include lettering, flowers, vines, tree branches, and ancient vessels. In addition to incorporating elements such as newspaper and wax into his compositions to create an aged, layered effect, he also mixes coffee grounds and dirt into his paint to further enhance the surface texture.
Rizzie has exhibited widely since 1975. He has had over fifty solo exhibitions, in New York, San Francisco, Santa Fe, and Dallas, amongst others. His work can be found in numerous public collections throughout the United States, including the Dallas Museum of Art; Guild Hall, East Hampton, New York; the Metropolitan Museum of Art, New York; the Museum of Fine Art, Houston; the Museum of Modern Art, New York; the New York Public Library; the San Antonio Museum of Art, Texas; and the Scottsdale Museum of Contemporary Art, Arizona.
# # #