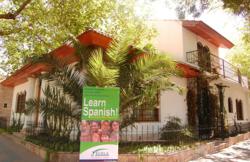 I learned more in one month than my three years in High School and one year in College.
Buenos Aires, Argentina (PRWEB) December 07, 2011
ECELA Spanish schools has officially announced that the organization will be offering two six week programs in Latin America during the Summer of 2012. The first option is taking place from May 20th to June 30th in Cusco, Per,u and the other session will be held between July 1st and August 11th in Mendoza, Argentina. Each group is limited to 24 students, and participants are required to have completed at least one year of college before attending.
Both ECELA programs will include 120 hours of Spanish instruction in addition to the anthropology curriculum. Both programs offer the equivalent of what students would typically learn in two college semesters of a foreign language class. While it is possible for students who have not previously studied college level Spanish to enroll, they are strongly encouraged to arrive a few weeks before the program begins to receive additional instruction.
Cusco was selected as an ideal location for the Spanish and Anthropology program due to its remarkable blend of the old and the new. Due to the fact that the city was the capital of the Incan empire, Cusco is idyllic for studying Incan history sites. During the program, students will visit world-famous archaeological sites, such as Machu Picchu. Further, Peru contains one of the largest concentrations of indigenous people in Latin America. The ECELA course will visit and study these groups and consider current challenges facing their society including economic integration and civil rights struggles.
Heather Lee is a student from The University of North Texas who attended last year's program in Cusco. In regards to the program, she stated, "The professors were amazing, I had Patti and Miluska and they helped me so much! I learned more in one month than my three years in High School and one year in College. The books were great tools and the pace was a little overwhelming at first, but I was thankful for it later."
ECELA's second summer 2012 program will enable students to explore the small Andean city of Mendoza. This location is a popular place among tourists, as it is well known for its stunning landscapes, wine country and various mountain sports. As there is a sizeable population in Mendoza living in poverty, students will work together on a special project assisting the "cartoneros." Thousands of local families currently earn a living through rummaging through trash and separating recyclable materials. As a result, this issue is an important one for anthropological study.
The tuition for each ECELA Spanish and Anthology program is $1,990. The cost of housing is additional and the costs will vary based on each student's preference. Selections include a shared student apartment or a family homestay option. For more information or an application, potential participants can contact ECELA at info(at)ECELA(dot)com or +1-347-329-5506.
About ECELA
ECELA operates Spanish schools in Argentina, Chile and Peru. ECELA instructs over 1900 students per year and the program's students originate from over 30 countries. With 20 hours of small group classes per week, cultural activities and excursions, and the advantages of living in a Spanish-speaking environment, immersion students advance very rapidly. To learn more about ECELA's programs visit http://www.ecela.com.
# # #