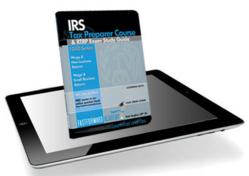 We partnered with Latino Tax College to offer the test bank in Spanish.
Orlando, FL (PRWEB) September 30, 2012
Today, Fast Forward Academy is launching a Spanish version of its renowned RTRP text bank for anyone trying to achieve tax preparer credentials. The online tax preparation course includes a test bank, which will now be offered in two languages, thereby expanding the interest range for the course itself.
Tax professionals who sign up for tax preparation training receive access to a seasoned test bank that includes the same type of questions found on the RTRP exam. Students not only learn necessary material for the RTRP exam, but are provided with the same format as the exam itself. Because of this format, many who have achieved tax preparer credentials have found the process easier and less stressful than those who did not have such preparation.
Fast Forward Academy President, Matt McBride, is happy that the RTRP test bank will now be available in Spanish. "We're quite proud at the product we've developed via the RTRP test bank. Students who sign up for tax preparation training not only get to practice similar type questions as those found on the actual exam, but they can ask a subject matter expert for help when needed and they receive a complete analysis of their performance with real-time reporting." McBride continues, "We partnered with Latino Tax College to offer the test bank in Spanish. This means that more tax professionals can use this helpful tool and successfully pass their RTRP exam."
Fast Forward Academy's online tax preparation course is well known for helping students successfully pass the RTRP exam, with 94.8% of students passing the exam on the first attempt. Now, a greater diversity of tax professionals will be able to take advantage of this course.
Click here to see how Fast Forward Academy can help you pass the RTRP exam
About Latino Tax College
Latino Tax College's mission is to "be the preferred provider for the bilingual tax professional for instructional, training and continuing education purposes." Located in Port Saint Lucie, FL, Latino Tax College provides and develops bilingual instructional tax services and material.
About Fast Forward Academy
Fast Forward Academy, LLC provides companies and individuals around the world with the tools to help them efficiently manage their professional education needs. The name Fast Forward Academy reflects the scope of our mission—helping students and professionals accomplish more in less time. To realize this goal, we make every effort to provide the most useful and efficient exam prep material in the market place, all designed to help our students Learn Fast and Pass. Our principal focus is to supply rapid training and streamlined continuing education to professionals in the fields of taxation, securities and insurance.