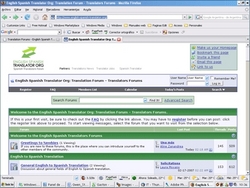 We look forward to continued growth of the forums and the positive impact it will have on the translators´ community
Falls Church, VA (PRWEB) May 22, 2008
Trusted Translations, Inc., Spanish translation leader, announced that their unique forums dedicated to the Spanish Translator community has reached over 11,000 users. English Spanish Translator Org is a site specifically tailored to English - Spanish translators and allows its members to interact in real time in order to resolve difficult Spanish-related translation issues and discuss topics.
This user milestone makes English Spanish Translator Org the largest forum focused on English - Spanish translation issues in the entire translation community.
"We are thrilled to see the explosive growth of the forum and the genuine benefits it has contributed to the industry," stated Trusted Translations' CEO, Richard Estevez. "We look forward to continued growth of the forums and the positive impact it will have on the translators´ community," further noted Mr. Estevez.
English Spanish Translation Org has sparked important discussions about various areas of English / Spanish translations, including: Legal Translations, Marketing Translations, Technical Translations, Medical Translations, Financial Translations, Accounting Translations, CAT Tools, Training for Translators, Translation Issues, Translators' Issues, Other Language Translations, Useful Language Resources, Translation Organizations, Translators' Events, and many more areas.
About English Spanish Translator Org:
English Spanish Translator Org is a Spanish translation community where all members can help each other with English to Spanish translations and Spanish to English translations. English Spanish Translator Org is a free site and welcomes all translation professionals, as well as students of the trade.
About Trusted Translations, Inc.:
Trusted Translations, Inc. is a leader for complex and high-volume translations.
Due to our specialization in Spanish translation and English Translation , we can guarantee the highest quality and most accurate English Spanish translations at the most competitive prices.
Based in the metro Washington D.C. area, and with offices in the US, Europe, and Latin America, Trusted Translations brings together over 15 years of proven experience to organizations around the world, including Fortune 500 companies, governments, non-profit entities and law firms.
Trusted Translations' high-volume translation strategy is built upon an integral Task Management approach, which facilitates communication and collaboration across all translation teams to ensure that you receive consistent, high-quality output. Our English- Spanish translators have translated millions of words to and from Spanish, serving clients from all over the world, including Fortune 500 companies, governments and non-profit organizations in almost every major industry.
One of Trusted Translations' primary goals as a full Spanish translation vendor is to establish long term relationships with its clients, becoming an integral part of their international expansion to the Spanish speaking markets.
The main reasons our clients choose our Spanish translation company are because of our superior accuracy, speed and competitive pricing. You can feel comfortable outsourcing your Spanish translations to Trusted Translations. You can be assured that every component of your project will be handled professionally and confidentially. As a client, you can rely on Trusted Translations to meticulously manage the work flow of your project.
While we specialize in translating English and Spanish, we also translate to and from all languages including: Portuguese translation, French Translation, Italian Translation, German Translation, Chinese Translation and Japanese Translation.
Our areas of industry expertise in professional translations are: advertising, aerospace, automotive, business, chemical, contracts, defense, e-learning, education, entertainment, energy, financial, government, immigration, globalization, legal, litigation, localization, manufacturing, marketing, media, medical, patents, religion, retail, software, technical, telecommunications, user manuals and websites.
###