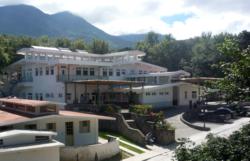 This five-day course is perfect for healthcare professionals who want to improve their ability to communicate with their native Spanish-speaking patients.
Santiago Atitlán, Guatemala (PRWEB) August 07, 2012
Hospitalito Atitlán, a small, private nonprofit hospital in the highlands of Guatemala, is offering a Medical Spanish and Cultural Immersion course for healthcare professionals who want to improve their ability to communicate with their native Spanish-speaking patients. The CME course has been approved for a maximum of 25 AMA PRA Category 1 Credit(s)™ by Perelman School of Medicine at the University of Pennsylvania.
"This five-day course is recommended for physicians, nurses and medical professionals who have studied Spanish but do not use the language in their practice," said Juan Manuel Chuc, Ajanel, MD, Hospitalito Atitlán Medical Director. "It is perfect for those who have mastered basic Spanish communication through study and/or travel and would like to immerse themselves in a medical setting. It also will engage students in the Maya experience, helping them better connect with patients from foreign cultures."
In a community hospital setting, participants will learn to use Spanish to:
**Take a medical history
** Identify chief complaints
**Conduct a physical exam
**Attend morning report
**Communicate with specialists
Program features include:
**Small classes (Six doctors per session)
**Instructors expert in medical terminology and the Spanish language
**Rotating lectures by Hospitalito faculty on relevant topics such as infectious diseases and tropical medicine
**Introduction to the modern indigenous Maya city, Santiago Atitlán, through screening of the documentary film, Balancing the Cosmos
**Lunch at a traditional style Tz'utujil Maya home, which was featured in Architectural Digest's "Exotic Homes of the World"
**Introduction to local Maya Culture through a walking tour of the village of Santiago Atitlán
The Hospitalito's 25,000 square foot facility is located on the picturesque shores of Lake Atitlán. In addition to serving the healthcare needs of its community, the Hospitalito is the site of surgical jornadas during which international specialists treat patients from the area and throughout Guatemala. In July 2012, the Hospitalito inaugurated a three-year diabetes prevention and treatment initiative funded by the World Diabetes Foundation, located in Denmark.
The Hospitalito has had a relationship with the Perelman School of Medicine since 2005 through the Guatemala Health Initiative (GHI), which was founded by students and faculty at the Schools of Medicine and Nursing. In Santiago Atitlán, GHI has pursued its mission of strengthening clinical services and community health promotion in resource-poor Guatemalan communities by:
**Developing community based participatory research programs with a focus on medical anthropology
**Partnering on health promotion projects in Santiago Atitlán
**Supporting medical and nursing student clinical rotations at the Hospitalito
**Raising funds and medical supplies and providing personnel support
**Educating the Penn community about health and human rights in Guatemala
The Medical Spanish and Cultural CME sessions will be offered starting in 2012 (October, November and December) and run through 2013 (January, February, March, April, May, July, August, October and November).
The course fee is $1,295, which includes ground transportation to and from Guatemala City and single-person accommodations at the luxurious La Posada de Santiago (additional charge for families).
Hospitalito Atitlán is a small private nonprofit hospital serving 75,000 Maya living on the southern shore of beautiful Lake Atitlán in the Guatemalan highlands. The hospital provides a full-range of preventive and clinical health services with an emphasis on women and children and has the only 24/7 emergency and surgical obstetrical care within a two-hour radius. Its dedicated staff is made up of local physicians, nurses and administrators who work hand-in-hand with international volunteer medical professionals to bring quality care to the community.